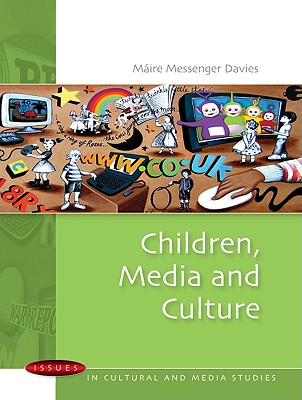 $36.99

NOT IN STOCK - Usually arrives in 7 - 14 business days
(Non-returnable)
Description
---
""Children, Media and Culture seeks to redefine the discipline's domain by including classical art, fairy tales, and literature in the research purview along with media such as television, gaming, and social networking. Maire Messenger Davies continues to offer an original voice in the scholarship of media and children."
Professor Dafna Lemish, Editor, Journal of Children and Media
"An ambitious and quite helpful synthesis of scholarly research, policy reports, professional opinion and personal impressions on what it has meant to be represented as a child in relation to different cultural and historical contexts and media forms up to the present day... I commend the author for the lively and clear, yet scholarly and eloquent quality of her prose. Would that more academics were also trained appreciators of literature and former journalists "
Mark Evan Nelson, Assistant Professor in English Language and Literature at the National Institute of Education, Singapore"
Childhood and children's culture are regularly in the forefront of debates about how society is changing - often, it is argued, for the worse. This book addresses the continuing concerns around media 'effects' and critically examines the view that technology has dramatically changed modern children's lives. This book engages with and seeks to broaden the public debate about the role of popular media in children's lives. It considers how public anxieties regarding the harmful influences of the media are heightened at times of rapid technological change. This change is most visible in the appearance of new media technology - currently including digital television; the Internet; computer games, mobile phones and i-pods, but also, in the past, print material, films, radio and broadcast television, when they were new.
Written in a lively and accessible style, the book discusses various genres, including television and the Internet, children's books, fairy tales, children in art, playground games, and film. Case studies include Disney, Harry Potter; Teletubbies, Sesame Street, Cbeebies and The Secret Garden.
Essential reading for media students, this book situates the study of childhood and the media within a framework of different disciplines, including historical, sociological, psychological and political approaches.
About the Author
---
Maire Messenger Davies is Professor of Media Studies, and Director of the Centre for Media Research at the University of Ulster, Northern Ireland.