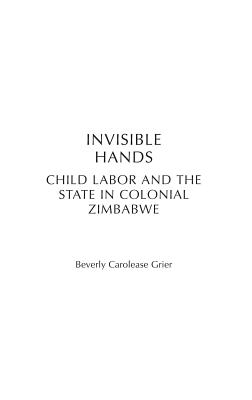 Description
---
Using a wealth of previously misread or neglected documentation, Grier demonstrates that children and adolescents were a major preoccupation of settlers in the mining and agricultural sectors, of domestic service, and of officials whose task it was to provide conditions favorable to the accumulation of capital. By doing so, she uncovers how the youngest workers resisted attempts to control their mobility and labor. Young workers and migrants employed passive and active forms of resistance to assert or maintain their autonomy from patriarchy, capital, and the state. In addition to being the first historical treatment of child labor and the construction of childhood in African studies, this book is one of the few studies of child labor that represents children as active agents in the construction of their own childhood.
Grier begins with children and work in the precolonial economy and with preexisting tensions between generations and genders as the basis for understanding why the young of Zimbabwe fled to urban areas during the early colonial period. The theme of resistance or agency continues as child migrants confronted the financial resources of settlers in mining and agriculture, and in the state whose task it was to establish and maintain the conditions for capital accumulation. Whether they were employed in the wage labor force or lived by their wits in town, boys and, as the colonial period unfolded, an increasing number of girls, presented a threat to the reproduction of the settler economic, social, and political order. Grier prepares the reader for the subsequent salience of African children as anti-apartheid activists, guerrillas, child soldiers, bandits, and street children.
About the Author
---
Beverly Carolease Grier is Associate Professor of Government and International Relations at Clark University, where she teaches courses in African politics, gender, and development. She has contributed articles to the Journal of Southern African Studies, African Studies Review, and Signs, and served as president of the African Studies Association of the United States.