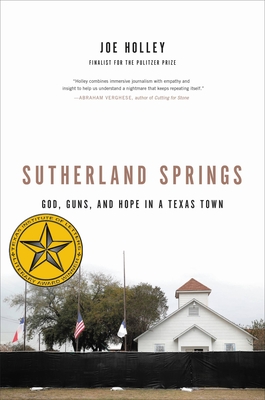 Description
---
**Winner of the 2021 Texas Institute of Letters Carr P. Collins' Award for Best Book of Nonfiction**

One part Columbine, one part God Save Texas, Joe Holley's riveting, compassionate book examines the 2017 mass shooting at a church in a small Texas town, revealing the struggles and triumphs of these fellow Texans long after the satellite news trucks have gone.

Sutherland Springs was the last place anyone would have expected to be victimized by our modern-day scourge of mass shootings. Founded in the 1850s along historic Cibolo Creek, the tiny community, named for the designated physician during the siege of the Alamo, was once a vibrant destination for wealthy tourists looking to soak up the "cures" of its namesake mineral springs. By November 5, 2017, however, the day a former Air Force enlistee opened fire in the town's First Baptist Church, Sutherland Springs was a shadow of its former self. Twenty-six people died that Sunday morning, in the worst mass shooting in a place of worship in American history.

Holley, who roams the Lone Star State as the "Native Texan" columnist for the Houston Chronicle and earned a Pulitzer- Prize nomination for his editorials about guns, spent more than a year embedded in the community. Long after most journalists had left, he stayed with his fellow Texans, getting to know a close-knit group of people - victims, heroes, and survivors. Holley shows how they work to come to terms with their loss and to rebuild shattered lives, marked by their deep faith in God and in guns. He also uses Sutherland Springs' unique history and its decades-long decline as a prism for understanding how an act of unspeakable violence reflects the complicated realities of Texas and America in the twenty-first century.
About the Author
---
Joe Holley, a columnist for the Houston Chronicle and a retired editorial writer, won a 2022 Pulitzer Prize with his team for a campaign that revealed voter suppression tactics and argued for sensible voting reforms, and was a 2017 Pulitzer Prize finalist for a series of editorials on gun control and the Texas gun culture. A former editor of the Texas Observer and a staff writer for the Washington Post, he's the author of six books, including Hometown Texas, a collection of his weekly "Native Texan" columns, and Hurricane Season: The Unforgettable Story of the Houston Astros and the Resilience of a City. A native Texan himself, he and his wife Laura live in Austin.
Praise For…
---
"An amazingly powerful book. [Holley] goes really deep and it's very moving."—Douglas Preston

"I have been a Joe Holley fan from my earliest days in Texas. Sutherland Springs is Holley at his best, coupling his brand of immersive journalism with empathy and insight to help us understand a nightmare that keeps repeating itself in other places."
—Abraham Verghese, author of Cutting for Stone

"Through persistent immersive journalism, Holley has produced a heart-rending work of extraordinary empathy."—The Texas Observer

"By carefully reconstructing the details of the shooting at First Baptist and faithfully observing the church's long journey of mourning and recovery, Holley's book makes its own important contribution to state and national debates over gun control. Decades of inaction amid recurring episodes of tragedy cast doubt on our willingness to embrace more forceful restrictions. Perhaps Sutherland Springs can renew our sense of urgency."—Christianity Today (5 stars)

"If anyone can make sense of the tragedy of Sutherland Springs, where 26 people lost their lives during a worship-service mass shooting in 2017, it is my former colleague, Joe Holley. This is a remarkable work of reporting - and human empathy. As a native Texan, Joe offers a profound understanding of a shattered community and of a culture where faith in God is intertwined with faith in guns. His examination of the shooting at Sutherland Springs -- by turns infuriating, heartbreaking and hopeful -- could well become a classic of American reportage."—Matt Schudel, staff writer, The Washington Post

"Joe Holley's moving narrative of loss and resilience in Sutherland Springs is a tour-de-force of engaged journalism. Holley takes us into the hearts and minds of survivors of the murders as they square their losses with belief in a just and merciful God and a commitment to gun culture. Most of all, he constructs a vivid narrative that shines a light on this modest community in the shadow of death, and indelibly humanizes a story that might well have been forgotten as the horrific massacre receded in time and memory."—Robert H. Abzug, Professor of History and American Studies, University of Texas

"A harrowing story of good and evil that gives way to hope, but also a window into the frustrating irony of America's gun culture. Veteran Texas journalist Joe Holley tells this tragedy with empathy and love. You will pray for the people of Sutherland Springs after reading this book, and you just may hope that they're praying for all of us who live in a dangerous time."
—Barry Hankins, Professor of History, Baylor University

"After every mass shooting, reporters leave when the 'thoughts and prayers' are over. But after a gunman killed or wounded half the congregation of a small-town church, Joe Holley stayed behind to witness the homecoming of those in rehab, the building of crowd-funded ramps for the permanently disabled, and the arrival of armed outsiders claiming the tragedy had been a staged hoax. Sutherland Springs is an important book that offers a deep understanding of how a community embracing both faith and guns confronts the violence of our time."
—Betty Sue Flowers, former director of the Lyndon Baines Johnson Library and coauthor of Presence: Human Purpose and the Field of the Future

"You may cry while reading this important and absorbing new book. You also may draw inspiration and courage from the reactions, resilience, and faith of those who survived... No matter how you view Texas's stance on Second Amendment rights, the state's pervasive 'gun culture,' or the availability of effective mental health care, this compassionate, well-researched work by veteran Texas journalist and Pulitzer Prize-finalist Joe Holley raises vital questions."—Lone Star Literary

"With the eyes, ears, and instincts of a veteran reporter; the judicious balance of an acclaimed editorial writer; the ability to win and deserve the trust of people devastated by senseless tragedy; and the skills of a gifted story-teller, Joe Holley has crafted a compelling account of one of the worst mass shootings in American history. Put more simply, this is a terrific book."
—William Martin, Senior Fellow, Religion and Public Policy, Rice University's Baker Institute, and author of A Prophet with Honor

"The rawness of this story reflects not just the resilience of communities of faith but also the insanity of our accommodation of gun violence that creates the need for resilience in the first place. The question is finally not "Why, God?" but "Why, us?" Joe Holley helps us to get to both."
—Katie Day, Charles A. Schieren Professor Emerita of Church and Society, United Lutheran Seminary

"An extraordinarily intimate account of the 2017 mass shooting...harrowing...this empathetic, finely wrought chronicle offers a revealing window into an ongoing national tragedy."
—Publishers Weekly