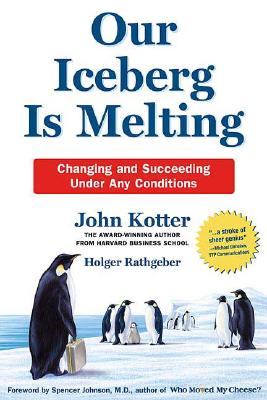 Description
---
Most of the denizens of the Antarctic penguin colony sneer at Fred, the quiet but observant scout who detects worrying signs that their home, an iceberg, is melting. Fred must cleverly convince and enlist key players, such as Louis, the head penguin; Alice, the number two bird; the intractable NoNo the weather expert; and a passle of school-age penguins if he is to save the colony.
Their delightfully told journey illuminates in an unforgettable way how to manage the necessary change that surrounds us all. Simple explanatory material following the fable enhances the lasting value of these lessons.
Our Iceberg Is Melting is at once charming, accessible and profound; a treat for virtually any reader.
About the Author
---
John P. Kotter, world-renowned expert on leadership, is the author of many books, including Leading Change and The Heart of Change. He is the Konosuke Matsushita Professor of Leadership, Emeritus at the Harvard Business School, and a graduate of MIT and Harvard. He is co-founder of Kotter International, a leadership organization that helps Global 5000 company leaders develop the skills to lead change. He and his wife Nancy live in Cambridge, Massachusetts.Holger Rathgeber spent his early professional career in Asia. He has worked in industry since the early 1990's and is now with one of the leading medical technology companies, Bectom Dickinson. Raised in Frankfurt, Germany, Rathgeber currently resides in White Plains, New York.
Praise For…
---
Penguins illustrate how to conquer changeBy Michelle Archer, for USA TODAY At first glance, Our Iceberg Is Melting seems easy to dismiss as an attempt to fuse a few hot topics -- global warming, marching penguins -- into a Who Moved My Cheese? fable-as-business-lesson best seller.
But this penguin parable has a pedigree in the form of Harvard Business School's John Kotter, author of Leading Change, the 1996 business guide that also sported our flat-footed, feathered friends on the cover. The Heart of Change was his 2002 follow-up. This time out, Kotter moves the penguins inside, using how a colony of them copes with a potential catastrophe -- yes, their iceberg is melting -- to illustrate his eight-step process of successful change. Their story is short and peppered with the personalities organizations inevitably include: the naysayers and nitpickers, the innovators and agitators, the leaders and followers. The idea is that everyone in a group must play a role in navigating change. In that vein, Kotter and co-author Holger Rathgeber write that their goal is to use a good story with visual stimuli (full-color, cartoon-like illustrations) to influence a broad range of people to better handle change and produce results. In other words, companies should buy a copy for everyone from the CEO to the stock clerk. This approach paid off for Spencer Johnson of Who Moved My Cheese?, who writes the foreword. Kotter's process advocates quick action to confront issues, group thinking and the buy-in of the whole organization. The goal: replace old habits with new behaviors and make them stick. Whether you're a fan of lowest-common-denominator reading or not, there's no denying the logic behind Kotter's steps and the at-times clever way they are woven into the penguins' journey.