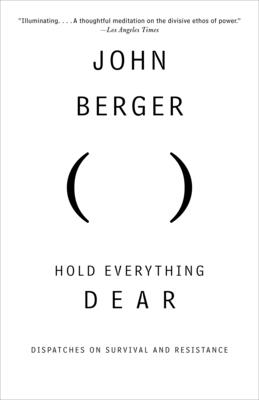 $15.40
Out of Stock Indefinitely
Description
---
From a Booker Prize-winning author and one of the most impassioned of writers of our time, this powerful collection of essays offers a stark portrait of post-9/11 realities. John Berger occupies a unique position in the international cultural landscape: artist, filmmaker, poet, philosopher, novelist, and essayist, he is also a deeply thoughtful political activist. In Hold Everything Dear, his artistry and activism meld in an attempt to make sense of the current state of our world.
Berger analyzes the nature of terrorism and the profound despair that gives rise to it. He writes about the homelessness of millions who have been forced by poverty and war to live as refugees. He discusses Afghanistan, Iraq, Palestine, Serbia, Bosnia, China, Indonesia-anyplace where people are deprived of the most basic of freedoms. Berger powerfully acknowledges the depth of suffering around the world and suggests actions that might finally help bring it to an end.
About the Author
---
John Berger was born in London in 1926. He is well known for his novels and stories as well as for his works of nonfiction, including several volumes of art criticism. His first novel, A Painter of Our Time, was published in 1958, and since then his books have included Ways of Seeing, the fiction trilogy Into Their Labours, and the novel G., which won the Booker Prize in 1972. In 1962 he left Britain permanently, and lived in a small village in the French Alps. He died in 2017.
Praise For…
---
"Illuminating. . . . A thoughtful meditation on the divisive ethos of power." —Los Angeles Times"Profound reflections on a world that has lost its values." —Shepard Express"Boldly stated . . . Classic. . . . [Berger speaks] to what we owe the dead and the yet-to-be-born." —Santa Cruz Sentinel"John Berger writes about what is important, not just interesting. In contemporary English letters he seems to me peerless; not since D. H. Lawrence has there been a writer who offers such attentiveness to the sensual world with responsiveness to the imperatives of conscience."—Susan Sontag