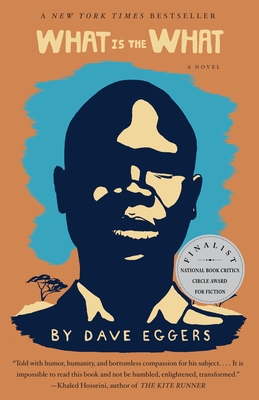 Description
---
New York Times Notable Book
New York Times Bestseller

What Is the What is the epic novel based on the life of Valentino Achak Deng who, along with thousands of other children —the so-called Lost Boys—was forced to leave his village in Sudan at the age of seven and trek hundreds of miles by foot, pursued by militias, government bombers, and wild animals, crossing the deserts of three countries to find freedom. When he finally is resettled in the United States, he finds a life full of promise, but also heartache and myriad new challenges. Moving, suspenseful, and unexpectedly funny, What Is the What is an astonishing novel that illuminates the lives of millions through one extraordinary man.
About the Author
---
Dave Eggers is the author of three previous books, A Heartbreaking Work of Staggering Genius, You Shall Know Our Velocity!, and How We Are Hungry. He is the editor of McSweeney's, a quarterly magazine and book-publishing company, and is cofounder of 826 Valencia, a network of nonprofit writing and tutoring centers for young people. His interest in oral history led to his 2004 cofounding of Voice of Witness, a nonprofit series of books that use oral history to illuminate human rights crises around the world. As a journalist, his work has appeared in The New Yorker, Esquire, and The Believer. He lives in the San Francisco Bay area with his wife and daughter.
Praise For…
---
"[An] Astonishing story … of immerse power, emotion and even, in the midst of horror, beauty." —Salman Rushdie 

"Told with humor, humanity, and bottomless compassion for his subject. . . . It is impossible to read this book and not be humbled, enlightened, transformed." —Khaled Hosseini, author of The Kite Runner

"Lit by lightning flashes of humor, wisdom and charm. . . . An extraordinary work of witness, and of art." —Francine Prose, The New York Times Book Review

"A moving, frightening, improbably beautiful book." —Lev Grossman, Time

"A testament to the triumph of hope over experience, human resilience over tragedy and disaster." —Michiko Kakutani, The New York Times

"An absolute classic. . . . Compelling, important, and vital to the understanding of the politics and emotional consequences of oppression." —Jonathan Durbin, People

"A sweet and sometimes very funny story of one boy's coming of age. . . . Strange, beautiful and unforgettable." —John Freeman, San Francisco Chronicle