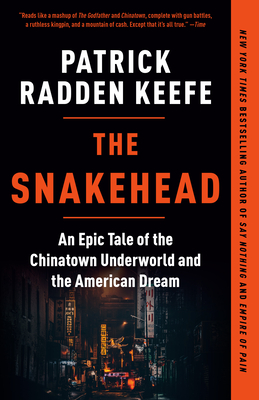 Description
---
In this thrilling panorama of real-life events, Patrick Radden Keefe investigates a secret world run by a surprising criminal: a charismatic middle-aged grandmother, who from a tiny noodle shop in New York's Chinatown managed a multi-million dollar business smuggling people.
 
Keefe reveals the inner workings of Sister Ping's complex empire and recounts the decade-long FBI investigation that eventually brought her down. He follows an often incompetent and sometimes corrupt INS as it pursues desperate immigrants risking everything to come to America, and along the way, he paints a stunning portrait of a generation of illegal immigrants and the intricate underground economy that sustains and exploits them. Grand in scope yet propulsive in narrative force, The Snakehead is both a kaleidoscopic crime story and a brilliant exploration of the ironies of immigration in America.
About the Author
---
Patrick Radden Keefe is a fellow at The Century Foundation and the author of Chatter: Dispatches from the Secret World of Global Eavesdropping. A graduate of Columbia University and Yale Law School, and the recipient of a Marshall Scholarship and a Guggenheim Fellowship, he is a regular contributor to The New Yorker, Slate, and many other publications. The Snakehead was a finalist for the J. Anthony Lukas Prize, awarded by the Journalism School at Columbia University for excellence in American nonfiction writing.

For character dossiers, an image gallery, interactive maps, and more, please visit: www.thesnakehead.com.
Praise For…
---
A Chicago Tribune, Christian Science Monitor, San Francisco Chronicle, and Washington Post Book of the Year

"Reads like a mashup of The Godfather and Chinatown, complete with gun battles, a ruthless kingpin and a mountain of cash. Except that it's all true."
—Time

"Essential reading. . . . A rich, beautifully told story, so suspenseful and with so many unexpected twists that in places it reads like a John le Carré novel."
—The Washington Post
 
"A masterwork. . . . In this single tale about a global criminal, Keefe finds a story of quintessentially American hope."
—Christian Science Monitor
 
"Painstakingly reported and vividly told. . . . As immigration reform languishes in Washington . . . everyone involved—from policymakers to activists to the undocumented—would be wise to read The Snakehead."
—Newsweek

"A formidably well-researched book that is as much a paean to its author's industriousness as it is a chronicle of crime."
—Janet Maslin, The New York Times
 
"Keefe has written a vivid non fiction thriller. The Snakehead reads like a Chinese-American version of The Sopranos, except that the mob boss is a grandmother who runs a human smuggling enterprise, and the story is true."
—Jane Mayer, author of The Dark Side
 
"Evocatively captures our yin and yang over immigration policy. . . . This is one of the freshest accounts of modern-day migration I've read, one filled with moral ambiguity, one that doesn't pretend to have the answers, one that in these times feels like essential reading."
—Alex Kotlowitz, The Washington Post
 
"An eye-opener. . . . Compelling and informative. . . . Keefe maintains a commendable fairness and objectivity reporting a fascinating story."
—USA Today
 
"Bracing, vivid. . . . Keefe writes gracefully, perceptively, insightfully. . . . Without sacrificing one iota of narrative momentum, he untangles a dauntingly complicated human-trafficking operation so a reader can effortlessly follow along."
—The New York Times Book Review (Editor's Choice)
 
"Brilliant. . . . Keefe's mastery of this chapter of our ongoing immigration saga is impressive. He muses thoughtfully about its many conundrums and highlights how our ethos of welcoming the persecuted gets soured by bad policy and the pervasive exploitation of the helpless. There will be more chapters, no doubt, but this one was pretty riveting."
—Los Angeles Times
 
"The Snakehead achieves what only the finest reporting can: it peels back an astonishing hidden world. Keefe takes the reader on a spellbinding journey . . . that will forever change your understanding of what it means to become an American."
—David Grann, author of The Lost City of Z
 
"Timely and compelling."
—Wall Street Journal
 
"Engrossing. . . . Keefe's narrative delves deeply into Chinatown and the labyrinthine smuggling routes between China and America, but it's also a glimpse into our conflicted feelings about illegals and the morass of America's immigration policy."
—New York Magazine
 
"Epic. . . . Impressive. . . . A true-life thriller that examines just about every aspect of U.S. immigration policy."
—The Associated Press
 
"Riveting. . . . Keefe deftly interweaves the political, legal and gunslinging strands of Sister Ping's story, rendering scenes of White House policy deliberation and immigration court procedure as engagingly as scenes of Chinatown shootouts and high-seas rendezvous."
—National Public Radio
 
"Exceptional. . . . [Told] with a masterful fluidity. . . . An adventure story, crime drama, political thriller and a contemplative look into immigration policy all at once."
—The Plain Dealer (Cleveland)
 
"Captivating. . . . A page-turner that reads like a crime novel. Peopled with dozens of colorful characters, it offers an authoritative history of the diaspora of the Chinese and their experience in the United States. . . . Keefe's account reminds us how much hope the American dream inspires and what a steep price some have paid to try to live it."
—­San Jose Mercury News
 
"Brilliant. . . . Keefe's account maintains the swift pace of a thriller. With the immigration debate still boiling, this exploration of how far people will go to achieve the American dream is a must-read."
—Publishers Weekly (starred review)