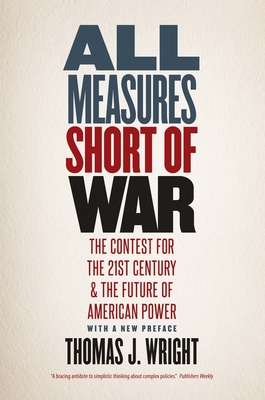 $26.00
Out of Stock Indefinitely
Description
---
A groundbreaking look at the future of great power competition in an age of globalization and what the United States can do in response

The two decades after the Cold War saw unprecedented cooperation between the major powers as the world converged on a model of liberal international order. Now, great power competition is back and the liberal order is in jeopardy. Russia and China are increasingly revisionist in their regions. The Middle East appears to be unraveling. And many Americans question why the United States ought to lead. What will great power competition look like in the decades ahead? Will the liberal world order survive? What impact will geopolitics have on globalization? And, what strategy should the United States pursue to succeed in an increasingly competitive world? In this book Thomas Wright explains how major powers will compete fiercely even as they try to avoid war with each other. Wright outlines a new American strategy—Responsible Competition—to navigate these challenges and strengthen the liberal order.
About the Author
---
Thomas J. Wright is a fellow and director of the Project on International Order and Strategy at the Brookings Institution.
Praise For…
---
"Wright makes a compelling case that the US and the world have benefitted from the liberal international order that Donald Trump threatens to discard, and also lucidly describes the challenges to US power around the world."—Gideon Rachman, Financial Times

"A bracing antidote to simplistic thinking about complex policies."—Publishers Weekly

"All Measures Short of War . . . offers a lively, engaging roadmap to a world that, as Wright notes, is characterized less by global convergence and more by rising nationalism and cutthroat national competition."—Keith Johnson, Foreign Policy

"Important and timely. . . . Among the many virtues of this book are its clarity and precision. . . . An essential starting place to debate how the United States might mix confrontation and accommodation in an era of crafty revisionists, diminished resources, and ideological turmoil."—Paul K. MacDonald, Political Science Quarterly

Thomas Wright's All Measures Short of War: The Contest for the Twenty-First Century and the Future of American Power has been selected for the shortlist of the Council on Foreign Relations' 2018 Arthur Ross Book Award!

"All Measures Short of War presents a clear-eyed analysis of the return of geopolitics and points a way for U.S. foreign policy to navigate this new landscape."—Francis Fukuyama, author of Political Order and Political Decay

"Wright has written an important book at a critical time. The United States and its allies face rising threats in the Middle East, Asia and Eastern Europe; the liberal international order has not confronted greater challenges for decades. Wright makes a considered, nuanced case for renewed U.S. international engagement and leadership."—Andrew Shearer, Senior Advisor at the Center for Strategic and International Studies and former national security advisor to Prime Ministers Howard and Abbott of Australia

"In this important and timely book, Thomas Wright argues that great power convergence is in decline and a new era of greater geopolitical competition is upon us, with profound implications for globalization, U.S. strategy, and international order."—Stephen Hadley, former National Security Advisor to President George W. Bush

"Wright is an incredibly perceptive observer of the global security order. In All Measures Short of War he has provided the best account yet of the recurrence of great power competition and its implications for U.S. policymakers. I know of no better guide to the end of the Age of Obama and the emergence of the Era of Trump."—Eric S. Edelman, former Under Secretary of Defense for Policy, and  Roger Herzog Distinguished Practitioner in Residence, Johns Hopkins University School of Advanced International Studies

"Contemplating a regressive future that resembles a past when great powers clashed and war was politics by other means, Wright advocates a concept of 'responsible competition' that harnesses globalization to maintain a cold peace in a dangerous world. Persuasive, important, and timely."—Strobe Talbott, former Deputy Secretary of State and author of The Great Experiment