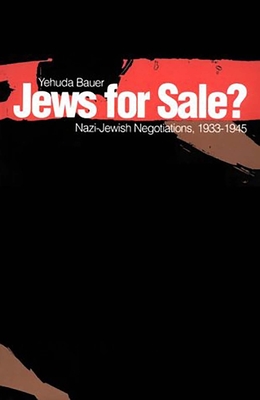 Description
---
The world has recently learned of Oskar Schindler's efforts to save the lives of Jewish workers in his factory in Poland by bribing Nazi officials. Not as well known, however, are many other equally dramatic attempts to negotiate with the Nazis for the release of Jews in exchange for money, goods, or political benefits. In this riveting book, a leading Holocaust scholar examines these attempts, describing the cast of characters, the motives of the participants, the frustrations and few successes, and the moral issues raised by the negotiations.

Drawing on a wealth of previously unexamined sources, Yehuda Bauer deals with the fact that before the war Hitler himself was willing to permit the total emigration of Jews from Germany in order to be rid of them. In the end, however, there were not enough funds for the Jews to buy their way out, there was no welcome for them abroad, and there was too little time before war began. Bauer then concentrates on the negotiations that took place between 1942 and 1945 as Himmler tried to keep open options for a separate peace with the Western powers.

In fascinating detail Bauer portrays the dramatic intrigues that took place: a group of Jewish leaders bribed a Nazi official to stop the deportation of Slovakian Jews; a Czech Jew known as Dogwood tried to create an alliance between American leaders and conservative German anti-Nazis; Adolf Eichmann's famous "trucks for blood" proposal to exchange one million Jews for trucks to use against the Soviets failed because of Western reluctance; and much more.

Tormenting questions arise throughout Bauer's discussion. If the Nazis were actually willing to surrender more Jews, should the Allies have acted on the offer? Did the efforts to exchange lives for money constitute collaboration with the enemy or heroism? In answering these questions, Bauer's book—engrossing, profound, and deeply moving—adds a new dimension to Holocaust studies.