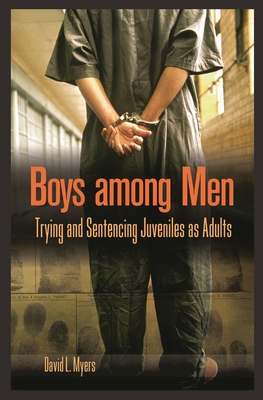 Description
---
Images of youngsters in handcuffs and prison uniforms have become common on the nightly news in the United States. As America's fascination with crime and justice has grown, so has attention to the ways in which youthful offenders are charged, tried, and sentenced. While they may once have been viewed as misguided youth, more and more juveniles are being charged as adults and sentenced to adult prisons. Myers questions whether doing so is an effective deterrent for young offenders, if rehabilitation is out of the question, and if youth and society are better served by sending children away to adult prisons rather than juvenile detention facilities. These questions and others are addressed in this careful analysis of the history and evolution of transfer laws that are increasingly prevalent throughout the United States.
The move toward charging juvenile delinquents as adult criminals initially coincided with an increase in violent crimes committed by youthful offenders. However, as such policies have grown and expanded, the methods by which youth are formally treated as adults in the criminal justice system have changed. Here, Myers examines the demographic, legal, criminal, and social characteristics of those youth who are waived to adult courts, assessing the nature, use, and effectiveness of punishment and rehabilitation efforts in modern juvenile and criminal justice systems. He concludes that as long as separate juvenile and adult justice systems are maintained, there will be a desire and perceived need for transferring some youth to adult court. However, he suggests that such transfers should be facilitated on a much more limited basis, while greater resources and funding for prevention and early intervention should be implemented to prevent youth from offending in the first place. This controversial topic receives a thorough accounting in this volume, which will open readers' eyes to the realities of juvenile delinquency and its treatment by the criminal justice system.
About the Author
---
David L. Myers is Associate Professor of Criminology and a Dean's Associate in the School of Graduate Studies and Research at Indiana University of Pennsylvania, where he also directs the Doctoral Program in Criminology and the Center for Research in Criminology. He is a member of the IUP Research Institute Advisory Board and the Institutional Review Board of the National Center for Juvenile Justice, as well as an Associate Editor and Columnist for Criminal Justice Research Reports. He is the author of Excluding Violent Youths from Juvenile Court: The Effectiveness of Legislative Waiver (2001), and his articles have appeared in such journals as Youth Violence and Juvenile Justice, Journal of Juvenile Justice and Detention Services, Criminal Justice Review, Justice Research and Policy, and Criminal Justice Studies.