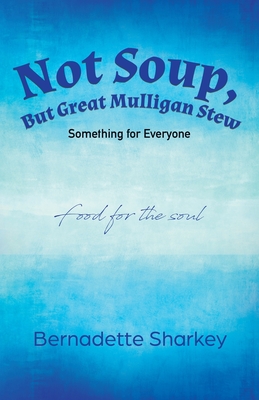 $14.69

NOT IN STOCK - Usually arrives in 7 - 14 business days
(Non-returnable)
Description
---
What is Mulligan stew?
It has been said that Mulligan stew was a common meal prepared by American hobos, usually in camps, in the early 1900s. Another variation is called "community stew," a meal put together by several people by combining whatever food they had or could collect.
"Not Soup, but Great Mulligan Stew" is a collection of food for the soul. Topics range from beauty tips to innocent insights, songs and poetry to easy-peasy recipes, words of wisdom to challenging puzzles, pet peeves and much more.
You can "stew" over this wonderful little book at your leisure, to lift you up in your downtime. You'll find it's fun and light, a little sassy and bright It will definitely put a smile on your face and maybe even a small tear on your cheek.
This little book can go with you anywhere, from your desktop to your bathroom (or someone else's) and anywhere in between. It is a great little read to pick you up when you need that little pick-me-up.