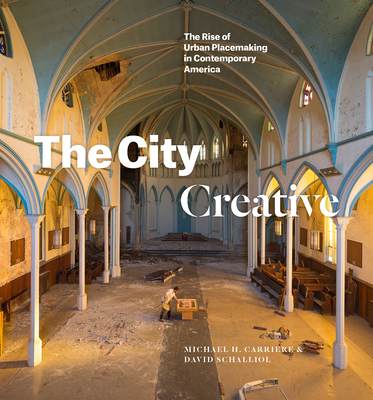 Description
---
In the wake of the Great Recession, American cities from Philadelphia to San Diego saw an upsurge in hyperlocal placemaking—small-scale interventions aimed at encouraging greater equity and community engagement in growth and renewal. But the projects that were the most successful at achieving these lofty ambitions weren't usually established by politicians, urban planners, or real estate developers; they were initiated by community activists, artists, and neighbors. In order to figure out why, The City Creative mounts a comprehensive study of placemaking in urban America, tracing its intellectual history and contrasting it with the efforts of people making positive change in their communities today.
​
Spanning the 1950s to the post-recession 2010s, The City Creative highlights the roles of such prominent individuals and organizations as Jane Jacobs, Christopher Alexander, Richard Sennett, Project for Public Spaces, and the National Endowment for the Arts in the development of urban placemaking, both in the abstract and on the ground. But that's only half the story. Bringing the narrative to the present, Michael H. Carriere and David Schalliol also detail placemaking interventions at more than 200 sites in more than 40 cities, combining archival research, interviews, participant observation, and Schalliol's powerful documentary photography. Carriere and Schalliol find that while these formal and informal placemaking interventions can bridge local community development and regional economic plans, more often than not, they push the boundaries of mainstream placemaking. Rather than simply stressing sociability or market-driven economic development, these initiatives offer an alternative model of community-led progress with the potential to redistribute valuable resources while producing tangible and intangible benefits for their communities. The City Creative provides a kaleidoscopic overview of how these initiatives grow, and sometimes collapse, illustrating the centrality of placemaking in the evolution of the American city and how it can be reoriented to meet demands for a more equitable future.
About the Author
---
Michael H. Carriere is associate professor at the Milwaukee School of Engineering.
 

David Schalliol is associate professor of sociology at St. Olaf College. His writing and photographs have appeared in such publications as MAS Context, The New York Times, and Social Science Research, as well as in numerous exhibitions, including in the Chicago Architecture Biennial and the Museum of Contemporary Photography. He is the author of Isolated Building Studies and director of The Area. 
Praise For…
---
"An unprecedented and refreshing history of creative placemaking, from the postwar era to the recent aftermath of the Great Recession. Carriere and Schalliol carefully examine the concept of sociability through the evolution of placemaking, describing how the latter expressed and negotiated tensions between individual identity and communal belonging. With compelling photography and hundreds of examples, the authors skillfully unravel a double narrative that characterizes placemaking and urban planning in contemporary American cities. . . . The City Creative is an exciting invitation to look past outdated practices of trickle-down urban development. The book offers a much needed and long overdue history of placemaking that acknowledges its shortcomings, incorporates more inclusive ideas, and celebrates novel practices. With honesty, rigor, and remarkable visual appeal, Carriere and Schalliol encourage readers to seek more holistic outcomes and benefits that can be distributed equitably. In doing so, they recast placemaking in a broader, more generous light."
— Journal of Planning History

"Provocative, although its tone is not strident. Implicit in its narrative, the book raises questions about the very core of city revitalization—the interaction of markets and public policies. . . . Courses in urban planning theory or practice may find this study a useful reference on the power of citizen-initiated action outside of the usual parameters of officialdom to reshape neighborhood environments and reinvigorate activity centers. Its highly readable text and copious images make it accessible to laypersons, as well as practitioners and scholars."
— Journal of Urban Affairs

"Carriere and Schalliol consider ideas about revitalizing cities by putting arts at the center of economic development. . . . This is a good reference book for students, urban planners, and community activists. . . . Recommended."
— Choice

"This is essential reading for this year of crisis (2020) and beyond: in the midst of a global pandemic, which has decimated urban public life, as diverse Americans reclaim the city's streets in the name of racial justice, The City Creative illustrates a broader history of creative placemaking in American cities and highlights the diverse and sometimes conflicting efforts to build anew. With an assemblage of rigorous case studies, a commitment to community engagement, and a rich compilation of compelling photographs, Carriere and Schalliol show us how the struggle for more inclusive and more just cities begins at the grassroots."
 
— Eric Avila, University of California Los Angeles

"The City Creative is a profound exploration of how residents working together can turn around the nation's most struggling cities. It is part scholarly critique of placemaking as an economic and social strategy of urban revitalization, part gorgeous photo essay of urban experimentations, and part powerful argument for making cities productive rather than postindustrial, with remedies homegrown and not top-down. This breathtaking book inspires hope and confidence in what committed members of a community can make possible."
— Lizabeth Cohen, author of Saving America's Cities