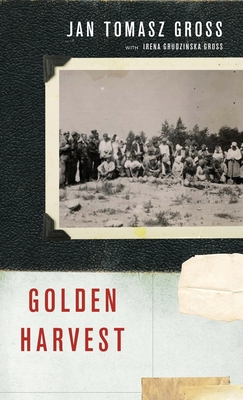 $16.95

NOT IN STOCK - Usually arrives in 7 - 14 business days
(Non-returnable)
Description
---
It seems at first commonplace: a group photograph of peasants at harvest time, after hard work well done, resting contentedly with their tools behind the fruits of their labor. But when one finally notices the crops scattered in front of the group, what seemed innocent on first view become
horrific skulls and bones. Where are we? Who are the people in the photograph, and what are they doing? The starting pointof Jan Tomasz and Irena Grudzinska Gross's Golden Harvest, this haunting photograph in fact depicts a group of peasants--diggers--atop a mountain of ashes at Treblinka, where some 800,000 Jews were gassed and cremated. The diggers are searching for gold and precious stones
that Nazi executioners may have overlooked. The story captured in this grainy black-and-white photograph symbolizes the vast, continent-wide plunder of Jewish wealth that went hand-in-hand with the Holocaust. The seizure of Jewish assets during World War II occasionally generates widespread attention when Swiss banks are challenged to produce lists of dormant accounts, or national museums are forced to return stolen paintings. But the theft of Europe's Jewish population was not limited to conquering
armies, leading banks, or museums. It was perpetrated also by local people, such as those pictured in the photograph. Lyrical and often heartbreaking, A Golden Harvest takes readers across Europe as it exposes the economic ravaging of an entire society. Beginning with a simple group shot, the
authors have written a moving book that evokes the depth and range, as well as the intimacy, of the Final Solution.

About the Author
---
Jan Tomasz Gross is Professor of History at Princeton University. He is the author of Neighbors: The Destruction of the Jewish Community in Jedwabne, Poland, which was a finalist for the National Book Award. Irena Grudzinska Gross is Associate Research Scholar in the Department of Slavic Languages and Literatures at Princeton University.