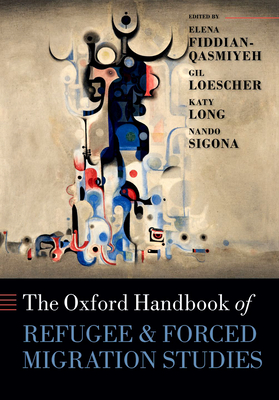 $67.50

NOT IN STOCK - Usually arrives in 7 - 14 business days
(Non-returnable)
Description
---
Refugee and Forced Migration Studies has grown from being a concern of a relatively small number of scholars and policy researchers in the 1980s to a global field of interest with thousands of students worldwide studying displacement either from traditional disciplinary perspectives or as a
core component of newer programmes across the Humanities and Social and Political Sciences. Today the field encompasses both rigorous academic research which may or may not ultimately inform policy and practice, as well as action-research focused on advocating in favour of refugees' needs and
rights. This authoritative Handbook critically evaluates the birth and development of Refugee and Forced Migration Studies, and analyses the key contemporary and future challenges faced by academics and practitioners working with and for forcibly displaced populations around the world. The 52
state-of-the-art chapters, written by leading academics, practitioners, and policymakers working in universities, research centres, think tanks, NGOs and international organizations, provide a comprehensive and cutting-edge overview of the key intellectual, political, social and institutional
challenges arising from mass displacement in the world today. The chapters vividly illustrate the vibrant and engaging debates that characterize this rapidly expanding field of research and practice.

About the Author
---
Elena Fiddian-Qasmiyeh was the Director of the Refugee Studies Centre's International Summer School in Forced Migration between 2010 and 2012. Prior to joining the RSC, Elena was Senior Teaching Fellow in Development Studies and Research Fellow in Diaspora Mobilisation and International Security atthe School of Oriental and African Studies, University of London. She has also worked as a legal advisor for refugees in Cairo with AMERA-Egypt, as a refugee case-worker with Amnesty International Australia's Refugee Team, and as a legal clerk at the International Criminal Court, conducting researchon crimes committed in Darfur (Sudan). She is Departmental Lecturer in Forced Migration at the Refugee Studies Centre, and Junior Research Fellow in Refugee Studies at Lady Margaret Hall, both at the University of Oxford. Gil Loescher is a long-established expert on international refugee policy. For over 25 years, he was Professor of International Relations at the University of Notre Dame in the United States and was a visiting fellow at Princeton University, LSE, Oxford and the Department of Humanitarian Affairs atthe US State Department in Washington, D.C. In recent years he has been Senior Research Fellow, Centre for International Studies, University of Oxford, Senior Fellow for Forced Migration and International Security at the International Institute for Strategic Studies in London and a senior researcherat the European Council on Refugees and Exiles. He is Visiting Professor at the Refugee Studies Centre, Queen Elizabeth House, University of Oxford. Katy Long's research examines the politics of migration in conflict and crisis affected areas, focusing in particular on refugee movements and international solutions to forced migration crises. Katy has worked extensively with the United Nations High Commissioner for Refugees, particularly inconsidering how access to migration channels might contribute to resolving refugees' exile. She is a Lecturer in International Development at the University of Edinburgh, having previously been a Lecturer at the Department of International Development, London School of Economics and PoliticalSciences, and a post-doctoral researcher at the Refugee Studies Centre, University of Oxford. Nando Sigona was previously a Senior Research Officer at the Refugee Studies Centre and Senior Researcher at the Centre on Migration, Policy and Society (COMPAS) at the University of Oxford. His research explores the impact of globalisation, migration and the human rights regime on meanings andpractices of citizenship and non-citizenship in countries affected by significant population movements. He is particularly interested in statelessness, diasporas and the state; Romani politics and anti-Gypsyism; 'illegality' and the everyday experiences of undocumented migrant children and youngpeople; and governance and governmentality of forced migration in the EU. He is a Birmingham Fellow at the School of Social Policy, University of Birmingham.