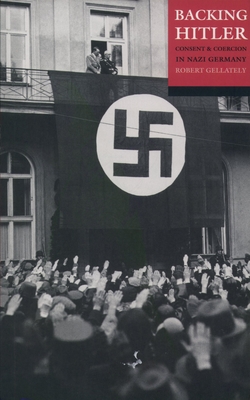 $47.18

NOT IN STOCK - Usually arrives in 7 - 14 business days
(Non-returnable)
Description
---
Debate still rages over how much ordinary Germans knew about the concentration camps and the Gestapo's activities during Hitler's reign. Now, in this well-documented and provocative volume, historian Robert Gellately argues that the majority of German citizens had quite a clear picture of the
extent of Nazi atrocities, and continued to support the Reich to the bitter end.
Culling chilling evidence from primary news sources and citing dozens of case studies, Gellately shows how media reports and press stories were an essential dimension of Hitler's popular dictatorship. Indeed, a vast array of material on the concentration camps, the violent campaigns against
social outsiders, and the Nazis' radical approaches to law and order was published in the media of the day, and was widely read by a highly literate population of Germans. Hitler, Gellately reveals, did not try to hide the existence of the Gestapo or of concentration camps. Nor did the Nazis try
to cow the people into submission. Instead they set out to win converts by building on popular images, cherished ideals, and long-held phobias. And their efforts succeeded, Gellately concludes, for the Gestapo's monstrous success was due, in large part, to ordinary German citizens who singled out
suspected enemies in their midst, reporting their suspicions and allegations freely and in a spirit of cooperation and patriotism.
Extensively documented, highly readable and illustrated with never-before-published photographs, Backing Hitler convincingly debunks the myth that Nazi atrocities were carried out in secret. From the rise of the Third Reich well into the final, desperate months of the war, the destruction of
innocent lives was inextricably linked to the will of the German people.

About the Author
---
Robert Gellately is the Strassler Professor in Holocaust History at Clark University, and is the author of The Gestapo and German Society: Enforcing Racial Policy 1933-1945. He lives in Shrewsbury, Massachusetts.