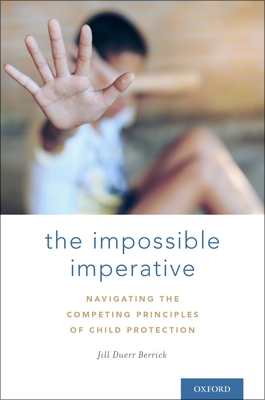 $55.28

NOT IN STOCK - Usually arrives in 7 - 14 business days
Description
---
The Impossible Imperative brings to life the daily efforts of child welfare professionals working on behalf of vulnerable children and families. Stories that highlight the work, written by child welfare staff on the front lines, speak to the competing principles that shape everyday decisions.
The book shows that, rather than being a simple task of protecting children, the field of child welfare is shaped by a series of competing ideas. The text features eight principles that undergird child protection practice, all of which are typically in conflict with others. These principles guide
practice and direct the course of policymaking, but when liberated from their aspirational context and placed in the real world, they are fraught with contradiction. The Impossible Imperative is designed to inspire a lively debate about the fundamental nature of child welfare and about the
principles that serve as the foundation for the work. It can be used as a teaching tool for aspiring professionals and as motivation to those looking to social work to make a difference in the world.

About the Author
---
Jill Duerr Berrick, PhD, MSW, is Zellerbach Family Foundation Professor in the School of Social Welfare at the University of California, Berkeley. Dr. Berrick's research focuses on the relationship of the state to vulnerable families. She has written or co-written ten books on topics relating tofamily poverty, child maltreatment, and child welfare. Her interests target the intersect between poverty, early childhood development, parenting, and the service systems designed to address these issues. Berrick's research approach typically relies upon the voices of service system consumers andproviders to identify the impacts of social problems and social service solutions on family life.