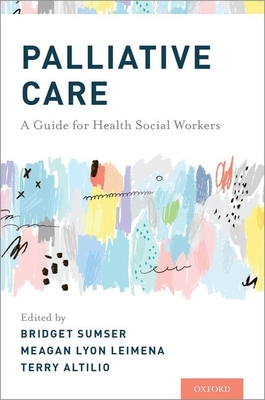 $60.68

NOT IN STOCK - Usually arrives in 7 - 14 business days
(Non-returnable)
Description
---
Accessible and instructive, Palliative Care guides and inspires health social workers to incorporate palliative care principles into their current clinical practice. Through the lenses of environmental theory and intersectionality, rich case narratives highlight opportunities for social
workers to enhance their work, advancing whole-person care in the face of serious illness. Chapters include questions to concretize ideas and demonstrate real-world application, while case narratives cover a range of settings, diagnoses, and populations. This book is a useful tool for educators,
learners, and practicing social workers working with individuals and families navigating complex health care systems.

About the Author
---
Bridget Sumser, MSW, Clinical Social Worker, University of California, San Francisco Medical Center Meagan Leimena, MSW, MPH, Palliative Care Social Work Consultant Terry Altilio, MSW, ACSW, LCSW, Social Work Coordinator, Division of Palliative Care, Mount Sinai Beth Israel