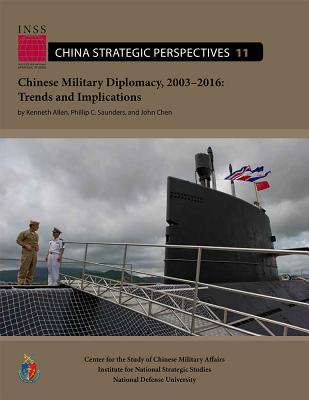 $27.00
Out of Stock Indefinitely
Description
---
This publication provides a history of Chinese military diplomacy from 2003 to 2016, and discusses future implications of this diplomacy for the United States and the international community.  
Excerpted from Chinese Military Diplomacy: 2003-2016, Trends and Implications:
China is placing increasing emphasis on military diplomacy to advance its foreign policy objectives and shape its security environment.  Military diplomacy is subordinate to and intended to serve national foreign policy objectives, which determine the relative priority the People's Liberation Army (PLA) places on regions and individual countries.  Most PLA diplomatic activity consists of senior-level meetings carried out by the Defense Minister, the Chief of General Staff (now Chief of the Joint Staff), and the Deputy Chief of General Staff (now Deputy Chief of the Joint Staff) who handles foreign affairs and intelligence.  
The PLA engages in nontraditional security cooperation with a range of partners to demonstrate that a stronger PLA can play a positive regional security role.  The PLA has begun to participate in more combat-related exercises and competitions with Russia and Central Asian countries.  PLA military diplomacy is focused primarily on major powers such as Russia and the United States and on Asian countries on China's periphery.  Military diplomatic activity does not necessarily translate into influence, and many routine activities may not be significant. Activity may reflect the quality of bilateral relations rather than be a means of developing them.  Military diplomacy can help establish communications and crisis management mechanisms with China and may also encourage Chinese adherence to international rules and norms.
Related items:
International and Foreign Affairs publication collection about China can be found here: https://bookstore.gpo.gov/catalog/china

Other products produced by US Army, National Defense University (NDU)  can be found here: https://bookstore.gpo.gov/agency/national-defense-university-ndu


China Strategic Perspectives 11.