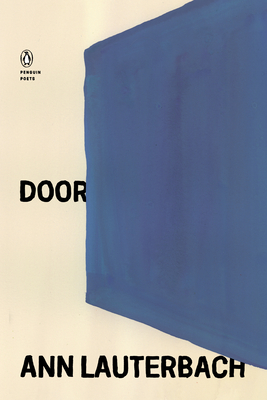 Description
---
Named a Most Anticipated Book of 2023 by LitHub

A new collection of vivid, personal and provocative work from the author of Or to Begin Again, a finalist for the 2009 National Book Award in poetry

In Ann Lauterbach's eleventh collection, the image of a Door recurs across several poems, as she considers the perpetual dialogue between what is open and what is shut for each of us. The Door is a threshold between the inner landscape of memory, thought, imagination and dream and the outer so-called real world, which increasingly comes to us through technology's lens, displacing and distorting our sense of intimacy, presence and relation. What is near, and what is far away? She asks about the efficacy of language itself, when confronted by the urgent uncertainties of contemporary experience.
About the Author
---
Poet and essayist Ann Lauterbach is the author of ten books of poetry and three books of essays, including The Night Sky: Writings on the Poetics of Experience and The Given & The Chosen; her 2009 collection, Or To Begin Again, was a finalist for the National Book Award. Lauterbach's work has been recognized by fellowships from, among others, the Guggenheim Foundation and the John D. and Catherine T. MacArthur Foundation. She is the Ruth and David Schwab II Professor of Languages and Literatures at Bard College. A native of New York City, she lives in Germantown, New York.
Praise For…
---
Praise for Ann Lauterbach and Door:

"Lauterbach's poems can be witty and urbane; they can be poignant and impassioned. But whatever the poems do, whatever form they discover to articulate anew and for the first time—since the true surprise of language is how it continues to astonish us—the poems are, again and ever, an act of the mind testing the integrity—structural, moral—of the world." —Richard Deming, Poetry

"Lauterbach's poems define and inhabit a space that is both mental and physical, made of all manner of stuff, from memories of childhood to what happens when you don't know where the words will take you . . . the language is sinuous and dazzling." —John Yau, Hyperallergic

"No poet is more attuned to small shifts in perception, to the 'beautiful differences' that make and unmake sense in time." —Ben Lerner
 
"[Door] encapsulates a wonderful line of [Lauterbach's] from a past interview: 'In order to endure the loss, and not to let it utterly overwhelm you and utterly take you away from the life, you have to find some way to let it be the thing that animates your attachment to things, and the animated attachment is the present. It's molecular—it's just a piece of the life' . . . She later writes: 'Let's explore what words cannot.' This book does just that, masterfully." —The Millions, "Must-Read Poetry: Winter 2023" 

"In this vivid 11th collection, Lauterbach's careful diction ranges from plain speech to densely packed sound collages . . . Lauterbach brilliantly demonstrates how words have mutable meanings . . . These perceptive entries offer a captivating reflection on the range of inner landscapes and the powers of language." —Publishers Weekly

"Another way of saying is another way of seeing. With its inimitable, porous syntax, this tremendously beautiful book delivers a new, caring gaze on what is torn and difficult and left ajar." —Valeria Luiselli
 
"This is a collection I've been needing to have as company and guide in this time, the honest, accurate intelligence all too aware of its helplessness.  The title sequence is written in or as eschaton, the ancient word for an extreme, of place, of degree, of time; it is that quality in this poem that makes the extremity of the edge I feel myself on, and all of us on, legible and human." —Dan Beachy-Quick