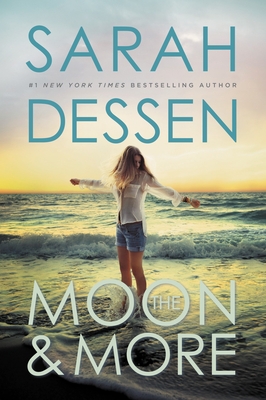 Description
---
From the award-winning and New York Times bestselling author of Once and for All

In her eleventh novel, Sarah Dessen returns to the beach town of Colby, setting of some of her best-loved books. Emaline is a Colby native, and so summer at the beach for her means hard work and a new population of beach goers. During this, her last summer before college, Emaline meets Theo while working for her family's rental business. He's a city boy who's come to Colby as the assistant to a high-strung documentary filmmaker who's in town to profile a reclusive local artist. Emaline knows he's not her type, but she can't help feeling drawn to him. And as their relationship develops, Emaline finds herself questioning her own goals, values, and choices in this classic Dessen romance.

Sarah Dessen is the winner of the Margaret A. Edwards Award for her contributions to YA literature, as well as the Romantic Times Career Achievement Award.
 
Books by Sarah Dessen:
That Summer
Someone Like You
Keeping the Moon
Dreamland
This Lullaby
The Truth About Forever 
Just Listen
Lock and Key
Along for the Ride
What Happened to Goodbye
The Moon and More
Saint Anything
Once and for All


About the Author
---
Sarah Dessen is the author of thirteen novels, which include the New York Times bestsellers The Moon and More, What Happened to Goodbye, Along for the Ride, Lock and Key, Just Listen, The Truth About Forever, and This Lullaby. Her first two books, That Summer and Someone Like You, were made into the movie How to Deal. 
 
Dessen's books are frequently chosen for the Teens' Top Ten list and the list of Best Fiction for Young Adults. They have been translated into twenty-five languages. Sarah Dessen is the recipient of the 2017 Margaret A. Edwards Award from the Young Adult division of the American Library Association.
 
Sarah Dessen graduated from the University of North Carolina at Chapel Hill with highest honors in creative writing. She lives in Chapel Hill with her husband, Jay, and their daughter, Sasha Clementine.
 
Visit Sarah at sarahdessen.com.
Praise For…
---
"Dessen is as skilled as ever at turning out steady, satisfying stories about teens that are easy to fall for." —Publishers Weekly, starred review

"Completely engaging, infused with moments of sweetness, humor and major epiphanies."—Kirkus Reviews

"Quintessential Dessen"—The Horn Book

Many of Dessen's books have been selected as Best Books for Young Adults, and they have appeared on numerous state award lists.