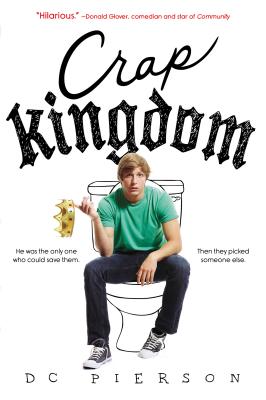 $10.99
Out of Stock Indefinitely
Description
---
THE CHOSEN ONE MUST BE RETRIEVED FROM EARTH

HE WILL BRING DOWN THE WALL AND RESTORE THE KINGDOM TO GLORY

HIS NAME IS TOM PARKING

With this mysterious yet oddly ordinary-looking prophecy, Tom's fate is sealed: he's been plucked from his life and whisked away to a magical kingdom to be its Chosen One.

There's just one problem: The kingdom is mostly made of garbage from Earth. Okay, well, two problems: the king hates Tom. Also, the princess likes to wear fake mustaches. And being Chosen One seems to consist mainly of cleaning out rats' noses at the Royal Rat-Snottery.

So, basically, the kingdom sucks.

When Tom turns down the job of Chosen One, he thinks he's making a smart decision. But when Tom discovers he's been replaced by his best friend Kyle, who's always been cooler, more athletic, and better with girls, Tom wants Crap Kingdom back—at any cost. And the hilarity that ensues will determine the fate of the universe.
About the Author
---
DC Pierson (dcpierson.com) is one-fifth of the popular sketch comedy group DERRICK, whose videos have been viewed over 250 million times online.  He co-wrote and co-starred in their feature film Mystery Team, which went to Sundance in 2009, released theatrically by Roadside Attractions, and is available on DVD from Lionsgate.  His first novel The Boy Who Couldn't Sleep And Never Had To won an Alex Award for adult books with special appeal for teen readers from the American Library Association.  He lives in Hollywood, California.
Praise For…
---
"Pierson delivers a cutting sendup of a traditional portal fantasy."
—Publishers Weekly

"Twice as trippy and equally as much fun as his first (The Boy Who Couldn't Sleep and Never Had To, 2010, for adults), Pierson's sophomore effort is a post-Potter, self-aware, ironic, sarcastic fantasy."
—Kirkus Reviews

"A hilarious and surreally honest book. Crap Kingdom is anything but the first half of its title."
—Donald Glover

"Pierson's funny, giddy anti-epic is the summer blockbuster your burnout friend never got around to writing."
—Patton Oswalt, comedian

"It's not just an incredible fantasy book. It's also so evocative of high school angst and joy. It really makes me wish I were a fifteen year old boy again.
"—Megan Amram, staff writer, "Parks & Recreation"

"Like the hero of a fantasy novel, DC Pierson was merely an insanely gifted comic like everyone else, until he wakened to his secret destiny: to write brilliant and hilarious novels (oh, and also to lead the were-centaurs in final battle against the Ageless Narwhaldactyl, but you read about that in the news)."
—John Hodgman, "The Daily Show with Jon Stewart" correspondent and author of That Is All

"DC Pierson's fantastic, fantastical, and most of all funny Crap Kingdom fits perfectly between Douglas Adams and the Harry Potter novels. And not just because of the alphabet."
—Matt Fraction, writer, Marvel's The Mighty Thor and Invincible Iron Man comics

"To balance a world as fantastical as that of Crap Kingdom with profoundly relatable moments of pure honesty is no easy task, and DC Pierson has made it appear effortless."
—Chris Gethard, author, A Bad Idea I'm About To Do