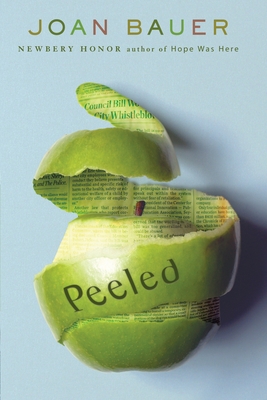 $9.89
Out of Stock Indefinitely
Description
---
Hildy Biddle wants something monumental to happen so she can finally prove herself to be more than a high school journalist. The problem? Her town?s biggest story stars a ghost, which is not an easy interview. But while the local paper is playing up people?s fears with shocking headlines of creepy happenings, Hildy is determined to discover what?s really going on. Unfortunately, her desire to uncover the truth is starting to cause a stir. With rumors swirling and tensions high, can Hildy push past all the hype and find out the real truth?
About the Author
---
July 12, 1951 - "I was born at eleven A.M., a most reasonable time, my mother often said, and when the nurse put me in my mother's arms for the first time I had both a nasty case of the hiccups and no discernible forehead (it's since grown in). I've always believed in comic entrances.
"As I grew up in River Forest, Illinois in the 1950's I seem to remember an early fascination with things that were funny. I thought that people who could make other people laugh were terribly fortunate. While my friends made their career plans, declaring they would become doctors, nurses, and lawyers, inwardly, I knew that I wanted to be involved somehow in comedy. This, however, was a difficult concept to get across in first grade. But I had a mother with a great comic sense (she was a high school English teacher) and a grandmother who was a funny professional storyteller—so I figured the right genes were in there somewhere, although I didn't always laugh at what my friends laughed at and they rarely giggled at my jokes. That, and the fact that I was overweight and very tall, all made me feel quite different when I was growing up—a bit like a water buffalo at a tea party.
"My grandmother, who I called Nana, had the biggest influence on me creatively. She taught me the importance of stories and laughter. She never said, 'Now I'm going to tell you a funny story', she'd just tell a story, and the humor would naturally flow from it because of who she was and how she and her characters saw the world. She showed me the difference between derisive laughter that hurts others and laughter that comes from the heart. She showed me, too, that stories help us understand ourselves at a deep level. She was a keen observer of people.
"I kept a diary as a child, was always penning stories and poems. I played the flute heartily, taught myself the guitar, and wrote folk songs. For years I wanted to be a comedienne, then a comedy writer. I was a voracious reader, too, and can still remember the dark wood and the green leather chairs of the River Forest Public Library, can hear my shoes tapping on the stairs going down to the children's room, can feel my fingers sliding across rows and rows of books, looking through the card catalogues that seemed to house everything that anyone would ever need to know about in the entire world. My parents divorced when I was eight years old, and I was devastated at the loss of my father. I pull from that memory regularly as a writer. Every book I have written so far has dealt with complex father issues of one kind or another. My father was an alcoholic and the pain of that was a shadow that followed me for years. I attempted to address that pain in Rules of the Road. It was a very healing book for me. I didn't understand it at the time, but I was living out the theme that I try to carry into all of my writing: adversity, if we let it, will make us stronger.
"In my twenties, I had a successful career in sales and advertising with the Chicago Tribune, McGraw-Hill, and Parade Magazine. I met my husband Evan, a computer engineer, while I was on vacation. Our courtship was simple. He asked me to dance; I said no. We got married five months later in August, 1981. But I was not happy in advertising sales, and I had a few ulcers to prove it. With Evan's loving support, I decided to try my hand at professional writing. I wish I could say that everything started falling into place, but it was a slow, slow build—writing newspaper and magazine articles for not much money. My daughter Jean was born in July of 82. She had the soul of a writer even as a baby. I can remember sitting at my typewriter (I didn't have a computer back then) writing away with Jean on a blanket on the floor next to me. If my writing was bad that day, I'd tear that page out of the typewriter and hand it to her. 'Bad paper,' I'd say and Jean would rip the paper in shreds with her little hands.
"I had moved from journalism to screenwriting when one of the biggest challenges of my life occurred. I was in a serious auto accident which injured my neck and back severely and required neurosurgery. It was a long road back to wholeness, but during that time I wrote Squashed, my first young adult novel. The humor in that story kept me going. Over the years, I have come to understand how deeply I need to laugh. It's like oxygen to me. My best times as a writer are when I'm working on a book and laughing while I'm writing. Then I know I've got something."
Joan's first novel, Squashed, won the Delacorte Prize for a First Young Adult Novel. Five novels for young adult readers have followed: Thwonk, Sticks, Rules of the Road (LA Times Book Prize and Golden Kite), Backwater and Hope was Here (Newbery Honor Medal).
Joan lives in Darien, CT with her husband and daughter.
Copyright © 2000 by Penguin Putnam Books for Young Readers. All rights reserved.
Praise For…
---
A-peeling all around! School Library Journal

Sharp pacing and an intriguing premise....She stocks her work with strong, sage women, the elements for a budding romance and plenty of funny moments. ùPublishers Weekly, starred review