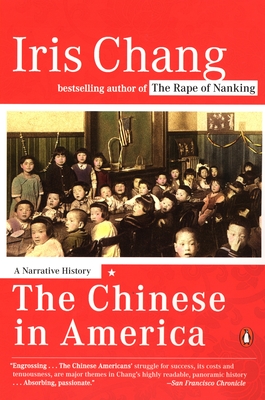 Description
---
A quintessiantially American story chronicling Chinese American achievement in the face of institutionalized racism by the New York Times bestselling author of The Rape of Nanking

In an epic story that spans 150 years and continues to the present day, Iris Chang tells of a people's search for a better life—the determination of the Chinese to forge an identity and a destiny in a strange land and, often against great obstacles, to find success. She chronicles the many accomplishments in America of Chinese immigrants and their descendents: building the infrastructure of their adopted country, fighting racist and exclusionary laws and anti-Asian violence, contributing to major scientific and technological advances, expanding the literary canon, and influencing the way we think about racial and ethnic groups. Interweaving political, social, economic, and cultural history, as well as the stories of individuals, Chang offers a bracing view not only of what it means to be Chinese American, but also of what it is to be American.
About the Author
---
Iris Chang (1968-2004) lived and worked in California. She was a graduate of the University of Illinois at Urbana and worked briefly as a reporter in Chicago before winning a graduate fellowship to the writing seminar program at The Johns Hopkins University. Her first book, Thread of the Silkworm (the story of Tsien Hsue-shen, father of the People's Republic of China's missile program) received worldwide critical acclaim. She is also the author of the New York Times bestseller The Rape of Nanking. She was the recipient of the John T. and Catherine D. MacArthur Foundation's Program on Peace and International Cooperation award, as well as major grants from the National Science Foundation, the Pacific Cultural Foundation, and the Harry Truman Library.
Praise For…
---
"Engrossing... The Chinese Americans' struggle for success, its costs and tenuousness, are major themes in Chang's highly readable, panoramic history.... Absorbing, passionate." —
San Francisco Chronicle
"A thought-provoking overview of how the Chinese have been an integral part of American history... An exemplary achievement." —Christian Science Monitor
"Richly detailed... I know of no better introduction to this multilayered and emotionally charged story." —Jonathan D. Spence
"Comprehensive, beautifully written, filled with deft and passionate analysis—the definitive book on Chinese American history for a new generation. Iris Chang places today's Chinese Americans brilliantly into 150 years of U.S. history." —David Henry Hwang, Tony Award–winning playwright