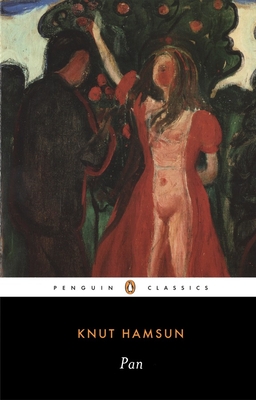 $15.00
Currently Out of Stock - No ETA
Description
---
The Nobel Prize winner's lyrical and disturbing portrait of love and the dark recesses of the human psyche

A Penguin Classic

A lone hunter accompanied only by his faithful dog, Aesop, Thomas Glahn roams Norway's northernmost wilds. Living out of a rude hut at the edge of a vast forest, Glahn pursues his solitary existence, hunting and fishing, until the strange girl Edvarda comes into his life.
Sverre Lyngstad's superb translation of Hamsun's 1894 novel restores the power and virtuosity of Hamsun's original and includes an illuminating introduction and explanatory notes.

For more than seventy years, Penguin has been the leading publisher of classic literature in the English-speaking world. With more than 1,800 titles, Penguin Classics represents a global bookshelf of the best works throughout history and across genres and disciplines. Readers trust the series to provide authoritative texts enhanced by introductions and notes by distinguished scholars and contemporary authors, as well as up-to-date translations by award-winning translators.
About the Author
---
Knut Hamsun (1858–1952) was a Norwegian novelist, poet, and playwright hailed by many as one of the founders of modern literature. Born to a poor peasant family in central Norway, he worked as a schoolmaster, sheriff's assistant, laborer, store clerk, farmhand, and streetcar conductor in both Scandinavia and America before establishing himself as a successful playwright and novelist. His first novel, Hunger (1890), was an immediate critical success; he went on to write the novels Mysteries (1892), Pan (1894), Victoria (1898), and The Growth of the Soil (1917), the last of which earned him the Nobel Prize in Literature in 1920.

Sverre Lyngstad (1922–2011; translator, introducer, notes) was a scholar and translator of Norwegian literature and Distinguished Professor Emeritus of English and Comparative Literature at the New Jersey Institute of Technology. He translated five of Knut Hamsun's works for Penguin Classics—Hunger (1890), Mysteries (1892), Pan (1894), Victoria (1898), and The Growth of the Soil (1917)—and was honored by the King of Norway with the St. Olav Medal and with the Knight's Cross, First Class, of the Royal Norwegian Order of Merit.


Praise For…
---
By the Winner of the Nobel Prize in Literature

"Knut Hamsun's writing is magical, his sentences are glowing, he could write about anything and make it alive." —Karl Ove Knausgaard, The New York Times Book Review

"The story [Pan] tells is as gripping as ever, and its descriptions of nature remain original. The work contains a harmony found only in the highest types of poetry; it is actually poetry set in prose, and boasts the best traits of each." —Isaac Bashevis Singer