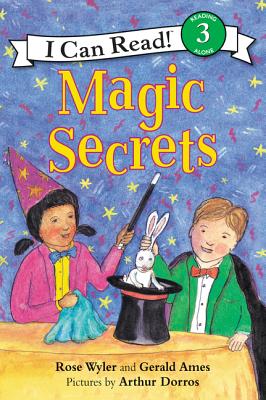 $5.49
Out of Stock Indefinitely
Description
---
Let the magic show begin!
Presto the magician is about to pull a rabbit out of a hat. Watch closely—the next magician to perform could be YOU!
With Magic Secrets, young readers will learn the secrets behind magic tricks to impress friends and family. "Most of the magic tricks presented here are easily understood and appear to be simple to learn and to execute with ample practice. Disappearing coins, rope tricks, a genie in a bottle, and many others provide interesting stunts to amaze and mystify one's friends." (School Library Journal)
Magic Secrets is a Level Three I Can Read book. Level 3 includes many fun subjects kids love to read about on their own. Themes include friendship, adventure, historical fiction, and science. Level 3 books are written for early independent readers. They include some challenging words and more complex themes and stories.

About the Author
---
Rose Wyler and Gerald Ames also wrote the I Can Read Book MAGIC SECRETS. They were inspired to create this book by their young friends in their building in New York City.
S.D. Schindler has illustrated many books, including CATWINGS by Ursula LeGuin and Children of Christmas by Cynthia Rylant. He lives in Philadelphia, PA.


Arthur Dorros views being a writer like being a traveling detective. He finds ideas all around. He learned Spanish while living in Latin America, and many of his stories, such as Abuelo, grow from those experiences. Arthur is the author of many books for children, including Julio's Magic, a CLASP Américas Award Commended Title; Papá and Me, a Pura Belpré Honor Book; and the popular Let's-Read-and-Find-Out Science book Ant Cities. He lives in Seattle, Washington.