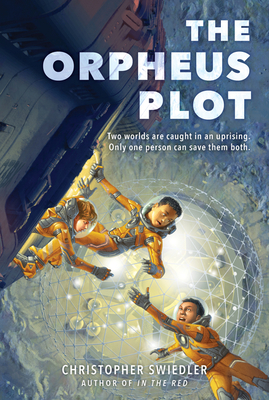 Description
---
A rebellion in space pits one boy's past against his future in this gripping adventure from the critically acclaimed author of In the Red! This out-of-this-world story about fighting for what's right, chasing your dreams, and believing in yourself is perfect for fans of Kevin Emerson, Yoon Ha Lee, and D. J. MacHale.
Lucas Adebayo grew up on a small mining ship in the asteroid belt, but wants to join the Navy and become the best pilot in the galaxy. The Navy has never accepted a Belter cadet before, but Lucas's skills secure him a place on the training ship, the Orpheus.
Life in the Navy couldn't be more different than life in the Belt, and Lucas struggles to find his place. As a Belter, he's an outsider among his peers; as a Navy cadet, he doesn't quite fit in at home anymore, either. Lucas is caught between the worlds of his past and his future when a Belter rebellion puts everyone's lives at risk. Only he can lead the way to peace.
Praise for In the Red
"It will leave you breathless."—New York Times bestselling author D. J. MacHale
"A non-stop, pulse-pounding adventure!"—Kevin Emerson, author of Last Day on Mars
"Stunning descriptions and harrowing feats of survival."—Booklist
About the Author
---
Christopher Swiedler is an author and software engineer who lives with his wife and three children in California, where they're under constant threat from earthquakes, tsunamis, and the occasional Martian dust storm. His goal in life is to win the Newbery Honor (not the medal itself) because he believes being a runner-up builds good character. In the Red is his debut novel. You can visit him at https://christopherswiedler.com.
Praise For…
---
"A fast-paced tale about defying expectations; the novel's focus on character dynamics and scientific plausibility makes this a read reminiscent of Robert Heinlein novels." — Publishers Weekly
"Josh Hurley's youthful and enthusiastic narration is the perfect match for this fast-paced science fiction adventure that will be enjoyed by fans of Orson Scott Card and Marissa Meyer." — Booklist Online (review of audio edition)
Praise for In the Red: "Hang on to your helmets. Christopher Swiedler takes you on a nail-biting, sci-fi adventure where every page holds unexpected peril for his bold heroes. He makes the impossible seem plausible in a universe where strolling on Mars can be normal, wondrous and at times, terrifying. It will leave you breathless." — D.J. MacHale, New York Times bestselling author
"In The Red is a thrilling combination of wide-eyed imagination and gritty real science, starring courageous young heroes using their smarts to battle impossible odds. A non-stop, pulse-pounding adventure!" — Kevin Emerson, author of Last Day on Mars
"Swiedler offers a fresh take on heroism through an honest portrayal of the emotional struggle of overcoming anxiety. The friendship between Michael and Lilith feels real and grounded. Readers will be left breathless by stunning descriptions and harrowing feats of survival." — Booklist
"Michael and Lilith are well-written characters. Their teamwork and ingenuity in the face of danger are admirable. This is a wonderful adventure novel filled with many twists and turns. The story manages to invoke a real sense of danger. The writing is reminiscent of Gary Paulsen's Hatchet and Andy Weir's The Martian—it maintains a skillful blend of science and survivalism to keep readers engaged and invested in the outcome." — School Library Journal