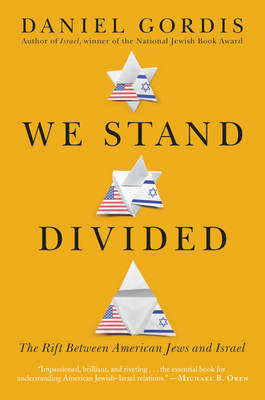 Description
---
From National Jewish Book Award Winner and author of Israel, a bold reevaluation of the tensions between American and Israeli Jews that reimagines the past, present, and future of Jewish life

Relations between the American Jewish community and Israel are at an all-time nadir. Since Israel's founding seventy years ago, particularly as memory of the Holocaust and of Israel's early vulnerability has receded, the divide has grown only wider. Most explanations pin the blame on Israel's handling of its conflict with the Palestinians, Israel's attitude toward non-Orthodox Judaism, and Israel's dismissive attitude toward American Jews in general. In short, the cause for the rupture is not what Israel is; it's what Israel does.
These explanations tell only half the story. We Stand Divided examines the history of the troubled relationship, showing that from the outset, the founders of what are now the world's two largest Jewish communities were responding to different threats and opportunities, and had very different ideas of how to guarantee a Jewish future.
With an even hand, Daniel Gordis takes us beyond the headlines and explains how Israel and America have fundamentally different ideas about issues ranging from democracy and history to religion and identity. He argues that as a first step to healing the breach, the two communities must acknowledge and discuss their profound differences and moral commitments. Only then can they forge a path forward, together.
About the Author
---
Dr. Daniel Gordis is Senior Vice President and the Koret Distinguished Fellow at Shalem College in Jerusalem. He writes a regular column for the Jerusalem Post and is also a regular columnist for Bloomberg View. The author of numerous books on Jewish thought and political currents in Israel, and a winner of the National Jewish Book Award, Dr. Gordis was the founding dean of the Ziegler School of Rabbinic Studies at the University of Judaism. He has also served as vice president of the Mandel Foundation in Israel and director of its Leadership Institute.
Praise For…
---
"With so many worried about the growing distance between American Jews and Israel, We Stand Divided is an extremely important, timely book. Offering a sweeping history of what has always been a troubled relationship, Daniel Gordis writes intelligently and clearly about the ongoing ideological tensions and how to resolve them." — Natan Sharansky, former political prisoner in the Soviet Union, former minister for Diaspora Affairs in Israel and former head of the Jewish Agency of Israel
"Impassioned, brilliant, and riveting, We Stand Divided is the essential book for understanding American Jewish-Israel relations. Gordis has made an outstanding contribution to the field."

— Michael Oren, Former Israeli Ambassador to the United States
"Those anguished by the rift between Israelis and American Jews might be surprised to learn it was ever thus. With empathy and deep historical insight, Daniel Gordis traces the roots and development of this disconnect and imagines a future of deepened mutual appreciation aimed at sustaining one unified Jewish people." — Daniel Shapiro, Former US Ambassador to Israel
"A fascinating and provocative description of the growing gap between American Jews and Israel. This book is a conversation starter, a conversation that is increasingly important.  I recommend it highly." — Deborah Lipstadt, author of Antisemitism Here and Now