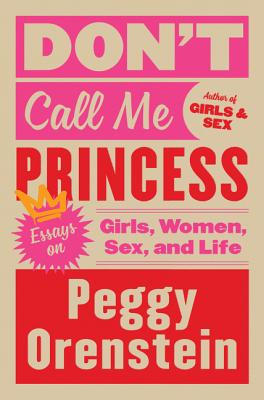 $29.69
Currently Out of Stock - No ETA
Description
---
The New York Times bestselling author of Girls & Sex and Cinderella Ate My Daughter delivers her first ever collection of essays—funny, poignant, deeply personal and sharply observed pieces, drawn from three decades of writing, which trace girls' and women's progress (or lack thereof) in what Orenstein once called a "half-changed world."
Named one of the "40 women who changed the media business in the last 40 years" by Columbia Journalism Review, Peggy Orenstein is one of the most prominent, unflinching feminist voices of our time. Her writing has broken ground and broken silences on topics as wide-ranging as miscarriage, motherhood, breast cancer, princess culture and the importance of girls' sexual pleasure. Her unique blend of investigative reporting, personal revelation and unexpected humor has made her books bestselling classics.
In Don't Call Me Princess, Orenstein's most resonant and important essays are available for the first time in collected form, updated with both an original introduction and personal reflections on each piece. Her takes on reproductive justice, the infertility industry, tensions between working and stay-at-home moms, pink ribbon fear-mongering and the complications of girl culture are not merely timeless—they have, like Margaret Atwood's The Handmaid's Tale, become more urgent in our contemporary political climate.
Don't Call Me Princess offers a crucial evaluation of where we stand today as women—in our work lives, sex lives, as mothers, as partners—illuminating both how far we've come and how far we still have to go.
About the Author
---
Peggy Orenstein is the New York Times bestselling author of Boys & Sex, Don't Call Me Princess, Girls & Sex, Cinderella Ate My Daughter, Waiting for Daisy, Flux, and Schoolgirls. A contributing writer for the New York Times Magazine and Afar, she has also been published in New York, The Atlantic, The New Yorker, and other publications. Her TED Talk has received over five million views. She lives in Northern California with her husband and daughter. 
Praise For…
---
"A satisfyingly succinct handbook of Orenstein's incisive, witty and necessary observations.... The conclusions Orenstein draws are often unexpected, always brilliant. The confessions she extracts from her subjects are stunning."                                                      
— Chicago Tribune

"Known for her wide-ranging feminist writing about everything from princess culture to breast cancer, Orenstein presents a collection of her essays that are both striking and timely."
— New York Times Book Review

"[Orenstein] has long woven trenchant feminist analysis of social issues with honest, often moving, self-interrogation.... One of Orenstein's greatest strengths is in breaking personal and cultural silences around living in a female body."
— San Francisco Chronicle

"The real strength of this collection is Orenstein's beautiful interweaving of personal stories with politics and her writings on/about politics.... She enriches her readers' understanding of abortion laws, breast cancer, body image, pornography, and other timely issues in specific yet open-ended and complex ways."
— Library Journal, starred review

"Orenstein punctuates many of her insightful points with wry wit and fresh humor.... After a round of surprising medical results, a member of Orenstein's medical team tells her, 'I'm afraid this is a bit like peeling an onion.' So, too, is Orenstein's writing. It's layered. It stings. It may very well make you cry—and then do something with it."                                
— Shelf Awareness, starred review

"Insightful…. Also offers an intimate portrait of Orenstein herself…. The power of her work comes from her incessant curiosity and her general unwillingness to provide a singular answer to life's biggest questions."
— Booklist, starred review

"Compelling and intelligent, Orenstein's book offers a powerful vision of the challenges of modern womanhood and of what it means to be female in 21st-century America. A sharp, timely collection of essays."
— Kirkus

"Orenstein is an enduring and important voice in the feminist choir."                           
— Publishers Weekly