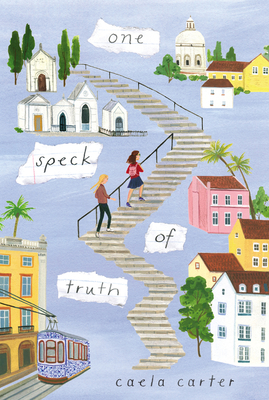 Description
---
A heartwarming and poignant story that explores the bonds of family and the importance of knowing your own history, from the critically acclaimed author of My Life with the Liars and the ALA Notable Book Forever, or a Long, Long Time
Alma has everything she needs, except answers to her questions. Her mother won't tell her why her beloved stepfather, Adam, is suddenly gone this summer. Or about life in Portugal, where her parents met. Not even about her father, who Alma cannot find, no matter how many graveyards she searches with her best friend, Julia.
Then Alma's mother shocks her by moving them both to Lisbon so Alma can fall in love with the vibrant city where her father grew up. There she discovers she has more family than she could have imagined.
She hopes Portugal holds the answers she's been desperately searching for, but it turns out finding the truth may be more complicated than she, or her mother, bargained for.
About the Author
---
Caela Carter is a writer and an educator. She is a graduate of the New School's MFA program in writing for children. She has written three books for middle grade readers: One Speck of Truth, My Life with the Liars, and Forever, or a Long, Long Time, which received three starred reviews, among other accolades. Caela lives in Brooklyn with her family. You can visit her online at www.caelacarter.com.
Praise For…
---
"Crafted from vulnerable and introspective prose. An absorbing tale that illustrates that knowing one's ancestry can be an avenue to self-discovery." — Kirkus Reviews
"Things work well here: Alma's realistic fury about being lied to her entire life; the tangled relationship with Faith's now-divorced husband, Alma's stepfather, who wanted to adopt Alma; and Alma's relationship with Julia. The story moves quickly, and readers will eagerly read to the last page." — Booklist
"A compelling portrait of family and all its flaws, and the freeing power of the truth." — Publishers Weekly
"This is a touching story about the importance of understanding as well as having family, and readers will appreciate Alma's hard-won new knowledge and peace." — Bulletin of the Center for Children's Books
"Well-written, emotionally evocative. Strongly recommended for middle grade collections and for any reader who has tried to find truth in the complexities of the past." — School Library Journal