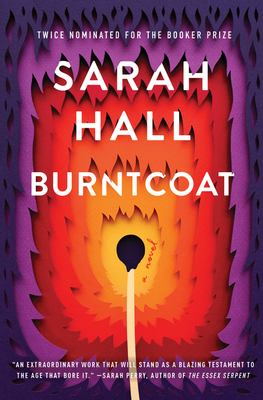 Staff Reviews
---
In Burntcoat the perceptiveness and passion of Hall's writing is evident on each page. Edith, a famous sculptor living in an unspecified British city, has outlived a global plague, but to what degree has she survived it? Told through a collage of memories, Edith reveals the love of her life and how that love was taken from her. Hall explores the aftermath of plague and how some who contracted the disease but lived are ostracized in the aftermath. Above all, Hall's novel is a love story. But it is also a warning tale about how we care for one another both during and beyond illness. An utterly breathtaking and exquisitely written novel.
— From
Lori's Book Recommendations
Description
---
A NATIONAL BOOK CRITICS CIRCLE NOMINEE
"An extraordinary work that will stand as blazing witness to the age that bore it." -- Sarah Perry
A "masterpiece" (Daisy Johnson) of mortality, passion, and human connection, set against the backdrop of a deadly global virus—from the Booker–nominated writer
You were the last one here, before I closed the door of Burntcoat. Before we all closed our doors . . .
In an unnamed British city, the virus is spreading, and like everyone else, the celebrated sculptor Edith Harkness retreats inside. She isolates herself in her immense studio, Burntcoat, with Halit, the lover she barely knows. As life outside changes irreparably, inside Burntcoat, Edith and Halit find themselves changed as well: by the histories and responsibilities each carries and bears, by the fears and dangers of the world outside, and by the progressions of their new relationship. And Burntcoat will be transformed, too, into a new and feverish world, a place in which Edith comes to an understanding of how we survive the impossible—and what is left after we have.
A sharp and stunning novel of art and ambition, mortality and connection, Burntcoat is a major work from "one of our most influential short story writers" (The Guardian). It is an intimate and vital examination of how and why we create—make art, form relationships, build a life—and an urgent exploration of an unprecedented crisis, the repercussions of which are still years in the learning.
About the Author
---
Sarah Hall was born in Cumbria. She is the prizewinning author of six novels and three short story collections. She is a recipient of the American Academy of Arts and Letters E. M. Forster Award, Edge Hill Short Story Prize, among others, and the only person ever to win the BBC National Short Story Award twice. 
Praise For…
---
"If every pandemic-inspired novel has half the intensity of Ms. Hall's short, acrid book then my worries will be misplaced. ... Sensual and messy, hot on the page." — Wall Street Journal
"Hall is best known as a much-decorated short-story writer, and Burntcoat carries a flavor of that form — in its lush intensity, its abrupt leaps in time and its reliance on mood and image and theme…There's a quality akin to Marilynne Robinson." — New York Times Book Review
"Hall has crafted a harrowing and memorable vision of decay, collapse and recovery…BURNTCOAT is powerful…Read it tomorrow or a decade from now — either way, it'll convey a palpable sense of what it feels like to be alive in 2021, another grueling year shaped by an epochal crisis." — Minneapolis Star Tribune
"Poetic and sensual." — Glamour
"A powerful story of art and love set during a global pandemic....Hall brings perfect harmony to the sweeping themes, such as a pandemic's impact on culture and the difficulties faced by a woman in the art world, and the prose, rich in description, is never overdone. This will serve as a benchmark for pandemic fiction." — Publishers Weekly (starred review)
"Hall's writing is alchemical, magnificent, divine, bodily. Here are new ways to understand what it feels like to be human. Here are books to cherish. BURNTCOAT is a masterpiece. I lay myself at the altar of everything Hall writes."
— Daisy Johnson, author of Sisters
"I loved and needed this full-throated yell of a novel about female desire, resilience, strangeness and artistic power, about the amplification of that power through suffering, and about the terror and beauty of bodies in extremis. Nobody writes like Sarah Hall, and here her lucid, vital, extraordinary style is matched perfectly to its subject -- it's an extraordinary work that will stand as blazing witness to the age that bore it." — Sarah Perry
"I can think of no other British writer whose talent so consistently thrills, surprises and staggers. Sarah Hall's work has everything: drama, poetry, tension, sensuality, dark magic and that undefinable otherness that is unique to her. She is the best there is. 'Writer's writer' can often be seen as a backhanded compliment, but Sarah Hall is this – and so much more. With Burntcoat she has solidified her status as the literary shining light we lesser souls aspire to."  — Benjamin Myers
"Don't expect anything to be but riveted." — E! Online
"Unapologetically sensual and intellectual in the vein of Rachel Cusk and Siri Hustvedt, BURNTCOAT is a story for our times."
— Shelf Awareness
"Stellar and devastating.. … [Hall] writes with a clarity and precision that keeps her books on the short side, but they are dense with feeling, with perfect observations, and with the physicality of life. And Burntcoat is no exception… When I got to the end of Burntcoat I was shaking as if I were sobbing, but there were no tears, just that feeling of being gripped and shaken, everything tied up in knots that take time to relax." — Tor.com
"Richly descriptive and forthrightly sensual, this novel catches at sensibilities of heart and art as it attains its stunning conclusion." — Booklist
"A sculptor considers the meaning of art, sex and disaster, in this masterfully achieved miniature epic set against a deadly virus. ... The hope in this sparse, sumptuous, brilliant book is that the work of finding meaning and truth can be continued even in extremity, even as art and love slip away." — The Guardian
"A fierce, lyrical … compelling work." — Sunday Times (London)
"Beguiling ... Hall writes in exquisite prose about desire and death in the midst of a national crisis." — Vogue (UK)
"A feverish, beautifully observed novel about sickness, love and loss. ... A book full of wisdom about the crisis of our times.'" — Irish Times
"The pleasure of Hall's prose - visceral, intimate - is a balm to our collective wound." — The Spectator
"An exquisite account of sexual intimacy, of maternal love, of our terrifying capacity for survival and our commitment to creating beauty out of the darkness."
— Irish Independent