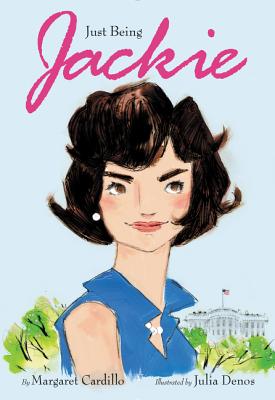 Description
---
A stunning and inspirational nonfiction picture book about the life and style of Jacqueline Kennedy Onassis from Margaret Cardillo and Julia Denos, the team that created Just Being Audrey. This nonfiction picture book is an excellent choice to share during homeschooling, in particular for children ages 4 to 6. It's a fun way to learn to read and as a supplement for activity books for children.
Jackie Kennedy was an American icon of style and grace—but there was steel under that style. Her poise under fire, intelligence, and tireless work as First Lady earned her the respect of leaders worldwide and made her beloved by generations.

Jackie's legacy also extended beyond her time in public life. She was a talented journalist, a preservationist who secured the legacy of national landmarks, and an editor of award-winning books.

The creators of Just Being Audrey have brought us another insightful, dazzling book about the real woman behind the famous name, who was so much more than first appearances.
About the Author
---
Margaret Cardillo is a children's book author, a screenwriter, and a professor. She's the author of the award-winning picture book biographies Just Being Audrey and Just Being Jackie. A native of Naples, Florida, she holds degrees from Boston College and the University of Miami, where she now teaches screenwriting. She lives in Miami with her family, including Zampano, her rescue dog. She believes they are soul mates. (Her husband understands.) You can visit her online at www.margaretcardillo.com.
Julia Denos is the author-illustrator of Swatch: The Girl Who Loved Color and the illustrator of several children's books, including Just Being Audrey by Margaret Cardillo, I Had a Favorite Dress by Boni Ashburn, Dotty by Erica S. Perl, Grandma's Gloves by Cecil Castellucci, and Letters to Leo by Amy Hest. Julia currently lives in Boston. You can visit her online at www.juliadenos.com.
Praise For…
---
Praise for JUST BEING AUDREY: "Denos' soft pastel illustrations cut just the right Audrey outline (complete with flapping neck scarf), and fans will especially enjoy picking out the movie roles depicted in a two-page spread of costumes." — Booklist
Praise for JUST BEING AUDREY: "Audrey Hepburn proves as irresistible a character in the pages of a children's book as she is in those soigné roles of the silver screen." — Publishers Weekly