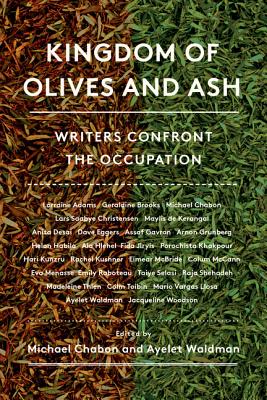 $18.69
Out of Stock Indefinitely
Description
---
A groundbreaking collection of essays by celebrated international writers bears witness to the human cost of fifty years of Israeli occupation of the West Bank and Gaza.
In Kingdom of Olives and Ash, Michael Chabon and Ayelet Waldman, two of today's most renowned novelists and essayists, have teamed up with the Israeli NGO Breaking the Silence—an organization comprised of former Israeli soldiers who served in the occupied territories and saw firsthand the injustice there—and a host of illustrious writers to tell the stories of the people on the ground in the contested territories.
Kingdom of Olives and Ash includes contributions from several of today's most esteemed storytellers including: Colum McCann, Jacqueline Woodson, Colm Toibin, Geraldine Brooks, Dave Eggers, Hari Kunzru, Raja Shehadeh, Mario Vargas Llosa and Assaf Gavron, as well as from editors Chabon and Waldman. Through these incisive, perceptive, and poignant essays, readers will gain unique insight into the narratives behind the litany of grim destruction broadcasted nightly on the news, as well as deeper understanding of the conflict as experienced by the people who live in the occupied territories. Together, these stories stand witness to the human cost of the occupation.
About the Author
---
Michael Chabon is the bestselling and Pulitzer Prize-winning author of Moonglow and The Amazing Adventures of Kavalier & Clay, among many others. He lives in Berkeley, California with his wife, the novelist Ayelet Waldman, and their children.
Ayelet Waldman is the author of, among other books, the memoir A Really Good Day and the novel Love & Treasure. She is the editor of the anthology Inside This Place Not of It: Narratives from Women's Prisons. 
Praise For…
---
"Dramatic testimonies... radiant with telling details, vital portraits, and explosive facts.... This sensitive, galvanizing, and landmark gathering brings the occupation into sharp focus as a tragedy of fear and tyranny, a monumental failure of compassion and justice, a horrific obstacle to world peace." — Booklist, starred review
"On the 50th anniversary of Israeli occupation of Palestine, top writers bear witness to oppression and despair.... moving, heartbreaking, and infuriating.... Deeply unsettling, important stories call for urgent responses to the Middle East conflict." — Kirkus, starred review