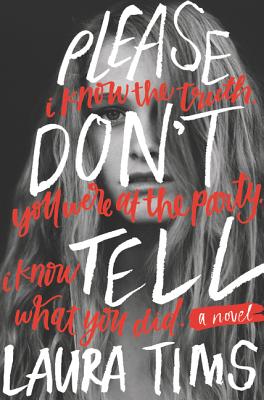 $19.79
Out of Stock Indefinitely
Description
---
Debut author Laura Tims writes an intense and utterly gripping contemporary YA tale perfect for fans of Pretty Little Liars. Joy has done everything to protect her twin sister...including murder.
Joy killed Adam Gordon for what he did to her sister, Grace. At least, that's what she thinks happened. Now Adam can't hurt anyone ever again, and her sister can be free from the boy who harmed her.
But someone else knows what Joy did, and they're going to out her as a cold-blooded killer if she doesn't expose the scandalous secrets bubbling just below the surface of her mundane town. As the demands escalate, and she finds herself falling for Adam's half brother, Joy must figure out the blackmailer's identity before everything spirals out of control.
Praise For…
---
"Tims weaves a taut YA thriller...Readers of Jay Asher's Thirteen Reasons Why (2007) will find this to be a perfect complement." — Booklist
"As real as it gets, not only with its believable dialogue and diverse cast of characters but also its reflection of the world...teens will find this story easily relatable...mature themes are handled tastefully and appropriately...an excellent debut that will leave readers hungry for more." — Voice of Youth Advocates (VOYA)
"The twins' drama accelerates quickly, taking readers down shocking rabbit holes. High-octane drama that thrills." — Kirkus Reviews
"Suspenseful debut. A compelling mystery. Tims expertly depicts the awkward uncertainties of teen life and the sometimes-blurry line between right and wrong." — Publishers Weekly
"Addresses classic coming-of-age questions and touches on many important contemporary issues" — School Library Journal