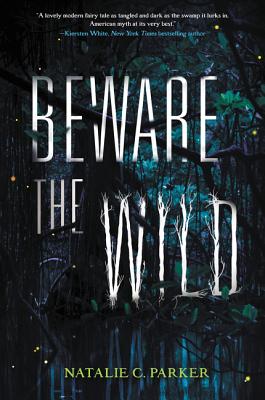 $10.99
Out of Stock Indefinitely
Description
---
Southern Gothic gets a whole new twist in Beware the Wild, now in paperback. Sure to appeal to fans of the bestselling Beautiful Creatures series, New York Times bestselling author Kiersten White called Beware the Wild "American myth at its very best."
The swamp in Sterling's small Louisiana town proves to have a power over its inhabitants when her brother disappears and no one but Sterling even remembers that he existed. Now Sterling, with the help of brooding loner Heath, who's had his own creepy experience with the swamp, must fight back and reclaim what—and who—the swamp has taken.
Beware the Wild is a riveting and atmospheric page-turner readers will want to devour. And don't miss Behold the Bones, a companion to Beware the Wild!
About the Author
---
Natalie C. Parker is the author of Beware the Wild and Behold the Bones and the editor of Three Sides of a Heart: Stories About Love Triangles. She is also the founder of Madcap Retreats and works at her local university coordinating programs on climate science and indigenous communities. She lives on the Kansas prairie with her partner and a requisite number of beasts. Learn more about her at www.nataliecparker.com.
Praise For…
---
"Creepily delicious swamp magic. I loved BEWARE THE WILD something wicked." — Amy Plum, internationally bestselling author of the Revenant trilogy
"Unique, haunting, and filled with characters who steal your heart, you'll be just as intrigued by the rural, small-town world that Parker builds as you will by the magic she weaves in the dark of the wild." — Josephine Angelini, internationally bestselling author of the Starcrossed trilogy
"This book, much like its dark and enticing swamp, seeps into your soul. And that is a very, very good thing." — Tara Hudson, author of the Hereafter series
"Brimming with mystery, passion, and dark enchantments, BEWARE THE WILD is Southern Gothic at its most beguiling." — Sonia Gensler, author of The Revenant and The Dark Between Sonia Gensler, author of The Revenant and The Dark Between Sonia Gensler, author of The Revenant and The Dark Between
"Parker has a nice touch with the Southern flavor of Sterling's Louisiana town, steeped in superstition and silence...This engaging debut should enjoy a wide audience." — Kirkus Reviews
"A creepy, atmospheric book that will draw readers in...Beware the Wild breathes new life into the teen supernatural genre." — School Library Journal
"Parker's assured debut is a creepy southern fairy tale...[with] deeply sympathetic, expressive characters. This vivid swamp magic tale will appeal especially to fans of Brenna Yovanoff and Franny Billingsley." — Booklist
"Parker hits all the right notes here, from the oppressively hot but chillingly creepy atmosphere to the slow-burn pacing to the cast of eccentric but believable characters. Fans of Yovanoff's Fiendish and Quinn's Another Little Piece will delight in this folklore- inspired Southern gothic." — Bulletin of the Center for Children's Books