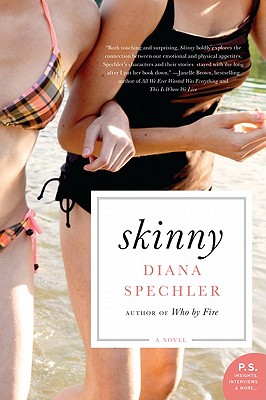 Description
---
"
Skinny
will be my go-to recommendation all year for anyone who wants smart, endearing,beautifully written women's fiction." —Allison Winn Scotch,
New York Times
bestselling author of
TheOne That I Want
and
Time of My Life
"Spechler…transcends melodrama and clichewith striking sensitivity and delicate touch." —Boston Globe
To escape thegrief she feels following her father's death, twenty-six year old Brooklynite Gray Lachmann becomesa counselor at a summer camp for overweight children, where she discovers shehas her own demons to battle both emotionally and physically. In Skinny, the ambitious, accomplished, anddarkly  humorous second novel fromreader-favorite Diana Spechler—author of Who ByFire and acontributor to Rumpus Women Volume 1—a vividly realized cast of characters mustcome to terms with eating disorders, buried secrets, and the trials of growingup.
About the Author
---
Diana Spechler received her MFA from the University of Montana and was a Steinbeck Fellow at San José State University from 2004 to 2005. Her fiction has appeared in Glimmer Train Stories, Moment, Lilith, and elsewhere. She lives in New York City.
Praise For…
---
"Add me to what is sure to be a very long list of Diana Spechler fans. Skinny will be my go-to recommendation all year for anyone who wants smart, endearing, beautifully written women's fiction." — Allison Winn Scotch, New York Times bestselling author of The One That I Want and Time of My Life
"Spechler's meditation on the nature of hunger is both touching and surprising, as Skinny boldly explores the connection between our emotional and physical appetites. Her characters and their stories stayed with me long after I put her book down." — Janelle Brown, bestselling author of All We Ever Wanted Was Everything and This Is Where We Live
"Diana Spechler writes like a dream. In Skinny, she masterfully explores the relationship between food and pain, between love and heartbreak. And what Spechler most magically captures is the elusive feeling of longing. And how, on its other side, we sometimes find what we needed all along." — Laura Dave, author of The Divorce Party and London Is The Best City in America