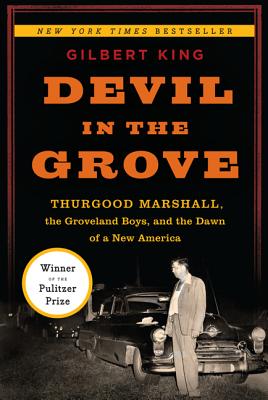 $26.99
Currently Out of Stock - No ETA
Description
---
Devil in the Grove, winner of the Pulitzer Prize for general nonfiction, is a gripping true story of racism, murder, rape, and the law. It brings to light one of the most dramatic court cases in American history, and offers a rare and revealing portrait of Thurgood Marshall that the world has never seen before.
As Isabel Wilkerson's The Warmth of Other Suns did for the story of America's black migration, Gilbert King's Devil in the Grove does for this great untold story of American legal history, a dangerous and uncertain case from the days immediately before Brown v. Board of Education in which the young civil rights attorney Marshall risked his life to defend a boy slated for the electric chair—saving him, against all odds, from being sentenced to death for a crime he did not commit.
About the Author
---
Gilbert King has written about U.S. Supreme Court history for the New York Times and the Washington Post, and is a featured contributor to Smithsonian magazine's history blog, Past Imperfect. He is the author of The Execution of Willie Francis: Race, Murder, and the Search for Justice in the American South. He lives in New York City with his wife and two daughters.
Praise For…
---
"This story about four young black men who were accused of the rape of a white woman in Lake County, Fla., in 1949 — and what the local sheriff and his cronies, who were itching for a lynching, got away with — is a must-read, cannot-put-down history."
— Thomas Friedman, New York Times

"A powerful and well-told drama of Southern injustice."
— Chicago Tribune

"A compelling look at the case that forged Thurgood Marshall's perception of himself as a crusader for civil rights. . . . King's style [is] at once suspenseful and historically meticulous"
— Christian Science Monitor

"After reading Gilbert King's excellent book on a little known and horrifying incident in which four young black men were rounded up and accused of raping a white woman, readers cannot help but be awed by the bravery of those who took a stand in the late 1940s and early 1950s."
— San Francisco Chronicle

"Superb."
— Junot Diaz, author of This Is How You Lose Her

"Recreates an important yet overlooked moment in American history with a chilling, atmospheric narrative that reads more like a Southern Gothic novel than a work of history."
— Salon

"A taut, intensely readable narrative."
— Boston Globe

"The story's drama and pathos make it a page-turner, but King's attention to detail, fresh material, and evenhanded treatment of the villains make it a worthy contribution to the history of the period, while offering valuable insight into Marshall's work and life."
— Publishers Weekly

"A thoroughgoing study of one of the most important civil-rights cases argued by Thurgood Marshall in dismantling Jim Crow strictures. . . . Deeply researched and superbly composed."
— Kirkus Reviews (starred review)

"A compelling chronicle."
— Booklist

"Gripping. . . . Lively and multidimensional."
— Dallas Morning News

"The tragic Groveland saga -- with its Faulknerian echoes of racial injustice spinning around an accusation of rape -- comes astonishingly alive in Gilbert King's narrative. It is both heartbreaking and unforgettable."
— Wil Haygood, author of King of the Cats: The Life and Times of Adam Clayton Powell Jr.

"In the terrifying story of the Groveland boys Gilbert King recreates an extraordinary moment in America's long, hard struggle for racial justice. Devil in the Grove is a harrowing, haunting, utterly mesmerizing book."
— Kevin Boyle, author of Arc of Justice: A Saga of Race, Civil Rights, and Murder in the Jazz Age

"Gilbert King's gut-wrenching, and captivating, narrative is civil rights literature at its best--meticulously researched, brilliantly written, and singularly focused on equal justice for all."
— Michael G. Long, author of Marshalling Justice: The Early Civil Rights Letters of Thurgood Marshall

"This is a haunting and compelling story, one of many in the campaign for racial justice. . . . This book is important because it is disturbing. And in that regard we cannot walk away from the story it tells."
— Phyllis Vine, author of One Man's Castle

"Gilbert King has done a remarkable job of weaving together history, sociology, law and detective work of his own, to reveal facts that even I, one of the defense counsel in the case, had not been aware of until now."
— Jack Greenberg, Alphonse Fletcher Professor of Law, Columbia University, former Director-Counsel, NAACP Legal Defense Fund.

"Its rich case history captures the beginning of the end of the most extreme forms of racism. . . . Very few books combine this depth of research and narrative power about a subject of such pivotal significance."
— Ira Katznelson, author of When Affirmative Action Was White and a former president of the American Political Science Association