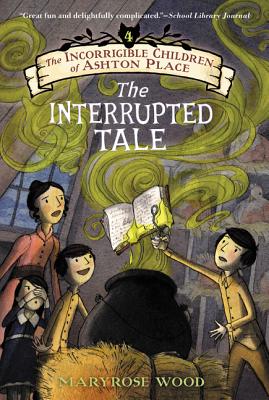 $6.99
Out of Stock Indefinitely
Other Books in Series
This is book number 4 in the Incorrigible Children of Ashton Place series.
Description
---
The fourth book in the Incorrigible Children of Ashton Place—the acclaimed and hilarious Victorian mystery series by Maryrose Wood, perfect for fans of Lemony Snicket and Trenton Lee Stewart—has a brand-new look.
Turning sixteen is a bittersweet occasion for Miss Penelope Lumley. Luckily, an invitation to speak at the annual Celebrate Alumnae Knowledge Exposition (or CAKE) at the Swanburne Academy for Poor Bright Females provides just the diversion Penelope needs.
Optoomuchstic as ever, Penelope hopes to give her CAKE talk, see some old friends, and show off the Incorrigible children to Miss Mortimer, but instead she finds her beloved school in an uproar. And when Penelope is asked by the Swanburne Academy board of trustees to demonstrate the academic progress of her three wolfish students so they can judge the true worth of a Swanburne education, the future of her alma mater—and of her job as governess to the Incorrigibles—hangs in the balance.
About the Author
---
Maryrose Wood is the author of the first five books (so far!) in this series about the Incorrigible children and their governess. These books may be considered works of fiction, which is to say, the true bits and the untrue bits are so thoroughly mixed together that no one should be able to tell the difference. This process of fabrication is fully permitted under the terms of the author's Poetic License, which is one of her most prized possessions.
Maryrose's other qualifications for writing these tales include a scandalous stint as a professional thespian, many years as a private governess to two curious and occasionally rambunctious pupils, and whatever literary insights she may have gleaned from living in close proximity to a clever but disobedient dog.
Praise For…
---
"Happily, the mysteries deepen at Ashton Place in this fourth volume in the Incorrigible Children series. Once again delightful wordplay and a plot that snakes itself around a suspicious family tree add to the deliciousness." — Booklist (starred review), about The Interrupted Tale (Book 4)