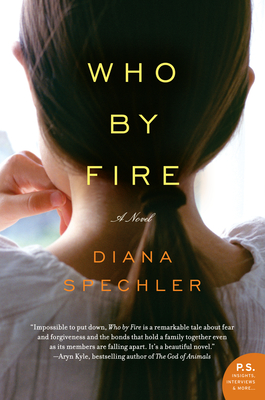 Description
---
Bits and Ash were children when the kidnapping of their younger sister, Alena—an incident for which Ash blames himself—caused an irreparable family rift. Thirteen years later, Ash is living as an Orthodox Jew in Israel, cutting himself off from his mother, Ellie, and his wild-child sister, Bits. But soon he may have to face them again; Alena's remains have finally been uncovered. Now Bits is traveling across the world in a bold and desperate attempt to bring her brother home and salvage what's left of their family.
Sharp and captivating, Who by Fire deftly explores what happens when people try to rescue one another.
About the Author
---
Diana Spechler received her MFA from the University of Montana and was a Steinbeck Fellow at San José State University from 2004 to 2005. Her fiction has appeared in Glimmer Train Stories, Moment, Lilith, and elsewhere. She lives in New York City.
Praise For…
---
"Impressively executed...[The characters'] voices are strong and convincing...Spechler is a talented writer who transcends melodrama and cliche with striking sensitivity and delicate touch." — Boston Globe
"In her affecting debut, Spechler raises the question of whether, in rescuing others, we risk ruining ourselves....Spechler's debut raises provacative questions about religion, violence, and the resilience of families and individuals." — Publishers Weekly
"Impossible to put down, Who By Fire is a remarkable tale about fear and forgiveness and the bonds that hold a family together even as its members are falling apart. It's a beautiful novel." — Aryn Kyle, bestselling author of THE GOD OF ANIMALS
"This book got hold of me and wouldn't let me go, and it's haunted me ever since I finished. I cannot wait for whatever's next from Diana Spechler." — Katrina Kittle, author of THE KINDNESS OF STRANGERS
"Told with grace, humor, and astonishing candor, this is a novel that will break your heart. To call it an extraordinary debut doesn't do it justice. This is an extraordinary novel, period." — Cristina Henriquez, author of COME TOGETHER, FALL APART
"Bits's adventures as she attempts to bring her brother home and deal with the ensuing family crisis provide this above-average debut novel with plenty of dramatic tension. Add this one to recommended lists of dysfunctional families in fiction." — Booklist
"[A] compelling debut novel . . . Spechler's characters are engaging, and her contemplation of a family in anguish is affecting." — Cleveland Plain Dealer
"Spechler's characters are lovable despite their numerous faults, and the story is not just dark but funny. Split among the three family members, the rich and varied narrative offers readers many avenues for enjoyment." — Library Journal