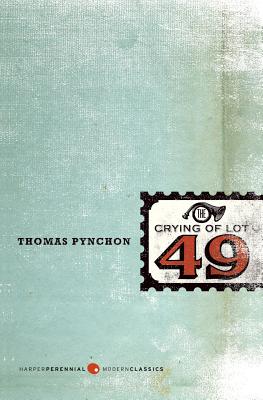 $14.99

NOT IN STOCK - Usually arrives in 7 - 14 business days
Staff Reviews
---
We all want to say that we've actually read a Thomas Pynchon book. THE CRYING OF LOT 49 is Pynchon's debut-- a slim, strange story of corporate mysticism and individual perplexity. It's by far Pynchon's most accessible work, and it opens the door to the author's more abstract stories. You'll read it in a weekend and think about it for months.
— From
THE CRYING OF LOT 49 (Thomas Pynchon)
Description
---
"A puzzle, an intrigue, a literary and historical tour de force." — San Francisco Examiner
The Crying of Lot 49 is Thomas Pynchon's highly original classic satire of modern America, about Oedipa Maas, a woman who finds herself enmeshed in what would appear to be an international conspiracy.
When her ex-lover, wealthy real-estate tycoon Pierce Inverarity, dies and designates her the coexecutor of his estate, California housewife Oedipa Maas is thrust into a paranoid mystery of metaphors, symbols, and the United States Postal Service. Traveling across Southern California, she meets some extremely interesting characters, and attains a not inconsiderable amount of self-knowledge.
About the Author
---
Thomas Pynchon was born in 1937. His books include V, Gravity's Rainbow, Vineland, Mason & Dixon, Against the Day, Inherent Vice, and Bleeding Edge.
Praise For…
---
"A puzzle, an intrigue, a literary and historical tour de force with a strongly European flavor." — San Francisco Examiner
"The comedy crackles, the puns pop, the satire explodes." — New York Times
"Mr. Pynchon's satirical eye doesn't miss a thing, including rock n' roll singers right wing extremists, and the general subculture of Southern California." — Library Journal
"The work of a virtuoso with prose. . . . His intricate symbolic order is akin to that of Joyce's Ulysses." — Chicago Tribune