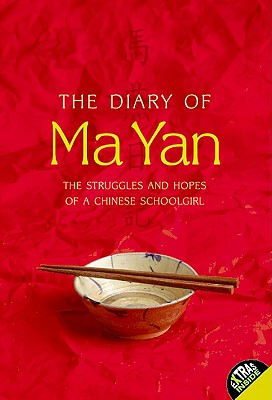 Description
---
"I'm so hungry, I could eat anything. Anything at all."
In a drought-stricken corner of rural China, an education can be the difference between a life of crushing poverty and the chance for a better future. But for Ma Yan, money is scarce, and the low wages paid for backbreaking work aren't always enough to pay school fees . . . or even to provide enough food for herself and her family.
Ma Yan's heart-wrenching, honest diary chronicles her struggle to escape hardship through her persistent, sometimes desperate, attempts to continue her schooling. Its publication was an international sensation, creating an outpouring of support for this courageous teenager and others like her . . . all due to one ordinary girl's extraordinary diary.
About the Author
---
Ma Yan is a teenager from Ningxia, China. She was thirteen and fourteen when she wrote these diary entries. Now sixteen, Ma Yan hopes to attend a university: "I want to study journalism," says Ma Yan. "My purpose is to keep the whole world informed, to report the poverty and real life in this area."
Pierre Haski is the French journalist who first published extracts from Ma Yan's diary. He was instrumental in establishing The Association for the Children of Ningxia, a fund that pays for the schooling of children like Ma Yan.
Praise For…
---
"Heartbreakingly inspirational." — AsianWeek
"Will push readers to a new understanding of the hardscrabble existence endured by many . . . [and] underscore how much teens everywhere have in common." — ALA Booklist
"Paint[s] a vivid portrait of the daily life of a child in a part of the world seldom visited." — School Library Journal
"Affecting. Will open youngster's eyes." — Publishers Weekly
"Young readers are likely to rally in support of a peer's struggle." — Bulletin of the Center for Children's Books
"A compelling, heartbreaking story of poverty, deprivation, and hope." — Vancouver Sun