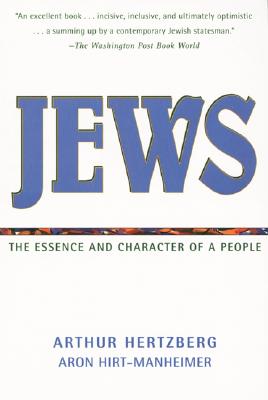 $20.34

NOT IN STOCK - Usually arrives in 7 - 14 business days
Description
---
In this landmark work, Rabbi Arthur Hertzberg, vice president emeritus of the World Jewish Congress, and Aron Hirt-Manheimer, editor of
Reform Judaism Magazine,
answer the question: What makes a Jew a Jew? These prominent Jewish scholars search for the soul of the Jewish character-from the archetype of Abraham and Sarah to the ambivalence of Kafka, Freud, and Woody Allen. They delve beyond conventional discussions of Jewish identity and explore the very essence of Jewish existence. Highly regarded,
Jews
explains how and why great Jewish figures throughout history, who have been victimized by anti-Semitism, have succeeded to rise again and endure.
About the Author
---
Rabbi Arthur Hertzberg, author of The Zionist Idea, Jewish Polemics, The Jews in America, Jews, and A Jew in America, is the Bronfman Visiting Professor of Humanities at New York University and Professor Emeritus of Religion at Dartmouth. A world-renowned Jewish scholar, he has served as president of the American Jewish Policy Foundation and the American Jewish Congress and as vice-president of the World Jewish Congress.